Product Overview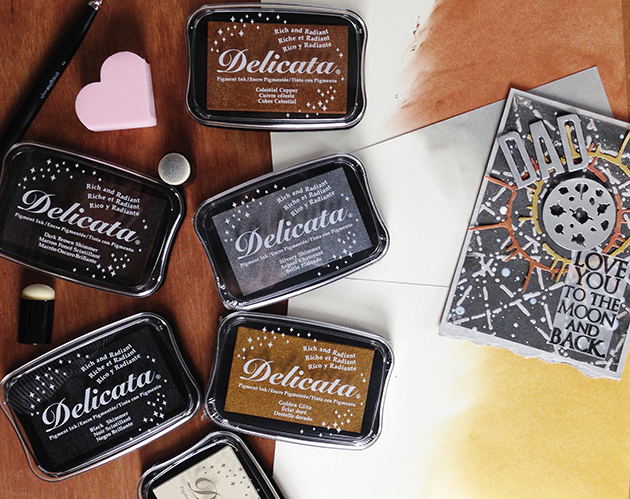 Delicata is a water-based, odorless, pigment ink that will not tarnish nor fade over time. Available in seven beautiful metallic colors: Golden Glitz, Silvery Shimmer, Celestrial Copper, Black Shimmer, Dark Brown Shimmer, White Shimmer and Bronze Burst.

Stamping on Light AND Dark Papers, including Glossy The metallic colors shine bright on every cardstock, even on black. Glossy and coated cardstock is no problem with Delicata.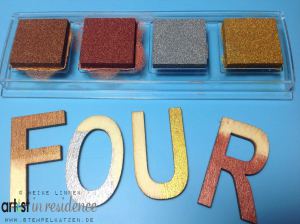 Delicata on Wood Create metallic letters, embellishment pieces (for example with Handcut Monterey Pine) or branches for home decoration using Delicata. Colors will stay rich and vibrant when dry with a truly metallic luster.

Metallic Color Washes can easily be created using Delicata inks. Simply ink glossy cardstock with any or all of the Delicata colors and immediately spritz with Ink Potion No. 9 and then dab with a paper towel. Because Delicata is a water based ink, you'll soon discover a completely new unique look!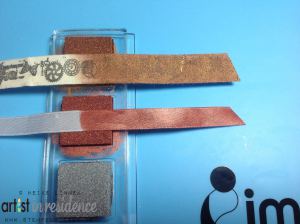 Coloring Ribbon and Other Fabric Embellishments Color your favorite ribbons, fabric flowers or other embellishments with Delicata either directly from the inkpad or using a Sponge Dauber, InkBlusher or other Imagine applicators. Note: Delicata is not intended to be laundered.
Delicata is the latest generation of metallic inkpad.
Remarkably true and bright, it outshines other inkpads and provides stamping results that resemble the true effects of metallic leafing without the mess
Great for the holidays and for year-round bling
Air dries quickly and cleans up easily with StazOn All-Purpose Stamp Cleaner
Golden Glitz, Silvery Shimmer, Celestial Copper and Bronze Burst available in the Delicata 4 inkpad
Golden Glitz, Silvery Shimmer, Celestial Copper, Black Shimmer, Dark Brown Shimmer, and White Shimmer are available in a full-size inkpad and inker
Archival and acid-free
Conforms to ASTM D-4236