Embossing Powder and Ink Product Overview
Heat embossing with embossing powders and pigment ink pads is one of the ways paper crafting artists create elegance on wedding invitations and other formal events.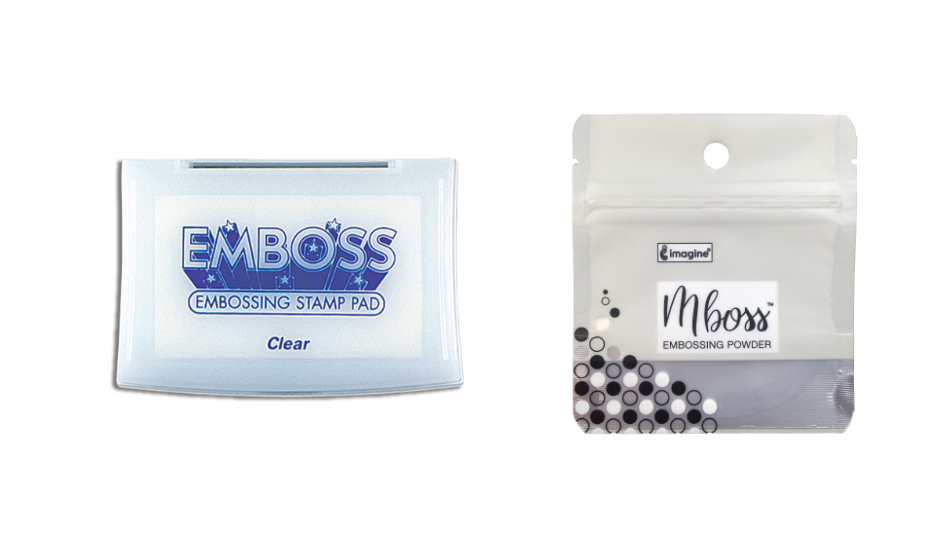 Creating the embossed effect is easy. Just stamp with any pigment ink, sprinkle Imagine's Mboss embossing powder on the wet ink, tap off excess and then heat-set with a heat gun for a beautiful and elegantly raised finish. Imagine's embossing powders are acid-free and available in an assortment of beautiful colors. Containers feature a wide mouth for easy return of excess powder after use.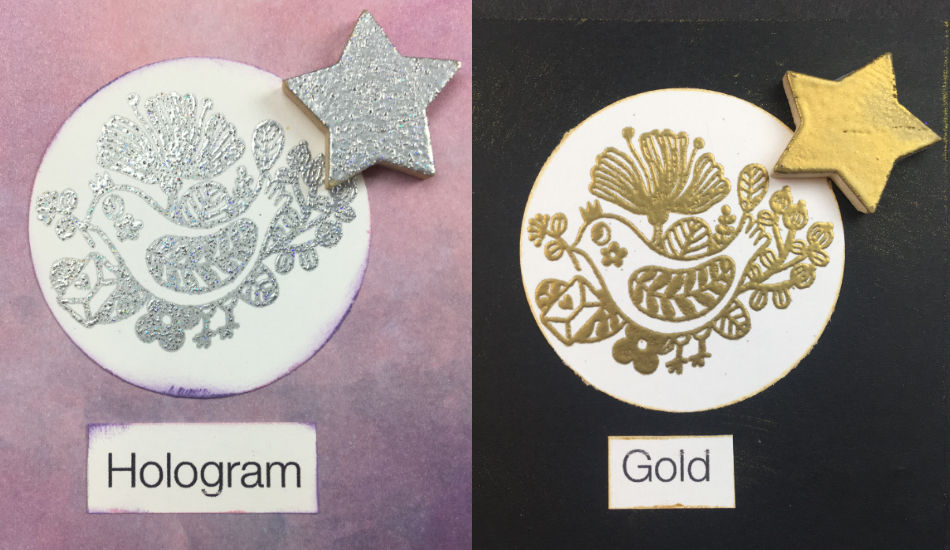 Two essentially clear Tsukineko inks are offered for use with our embossing powders: VersaMark and Emboss.
We also offer colored inks such as VersaColor, VersaFine, Brilliance, Memento Luxe and VersaMagic that are compatible with clear embossing powders. Stamping with a pigment ink in red and embossing with a clear sparkle is an example of how to create interesting visual effects with this art technique.
One of the ways embossing powder is popular is with the metallic colors. To create beautiful gold wedding decor pieces, use your choice of ink listed above with Gold Embossing Powder for stunning results.
Using White Embossing Powder on dark colored backgrounds creates dramatic effects. This same effect can be used for creating resist effects with your favorite inks and mediums.
Simply bold, that's how to describe using Black Embossing Powder to create cards and other projects that are sure to make a statement.
Full-size Emboss inkpads are the ideal medium for all your embossing needs.
Tacky ink grabs and holds embossing powders until heat-setting is complete
Slow drying and capable of reproducing highly detailed stamped images
Use on coated and uncoated papers
Available in two colors: clear and tinted light pink. Inkers are available
These pads feature a substantially raised inkpad surface to accommodate even the largest stamps without interference from the inkpad case
Water-based; archival and acid free
Conforms to ASTM 4236