I was excited when we were asked to create a St. Patrick's Day project since green is my favorite color. And there's no greener day than St. Patricks Day! To celebrate, I grabbed StazOn Studio Glaze, Radiant Neon Amplify! and StazOn inkpads and created a festive canvas.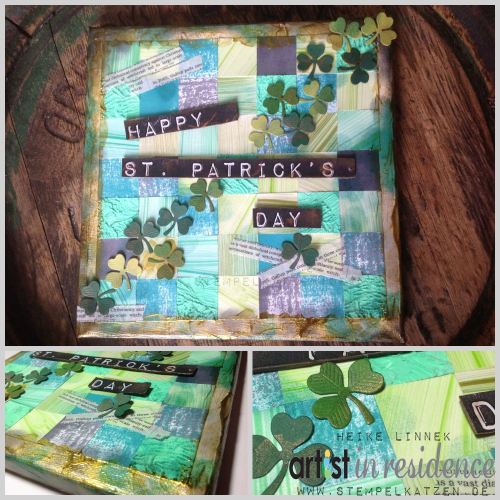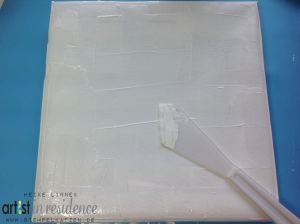 1. Prime the canvas with gesso. For that purpose, the Scotty Palette Knive is very helpful.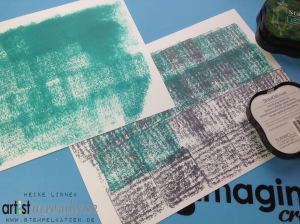 2. Apply StazOn in Emerald City and Cloudy Sky on white cardstock, coloring the cardstock directly with the inkpad.
3. Continue to color different pieces of cardstock with StazOn Studio Glaze in Emerald City, Cactus Green and Gold with a paint brush. Mix the colors to create different shades of green.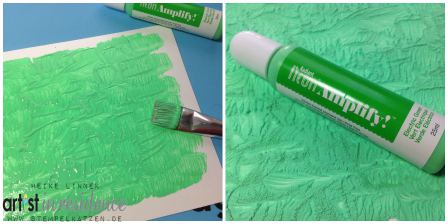 4. Paint the last cardstock with Radiant Neon Amplify! in Electric Green. Carefully heat it with a heat tool and watch the color puffing up.

5. Punch out 1" squares from all the different cardstock sheets that you've created.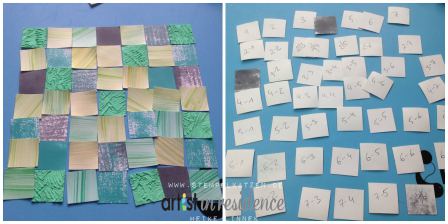 6. Create a pattern with all the different 1" squares to fit your canvas. Number the pieces of the pattern on the backside will make the next step easier.

7. Adhere the pieces onto the canvas using Creative Medium Original. Mark the center and work towards the edges to make sure that the pattern stays centered and aligned. Allow to dry completely.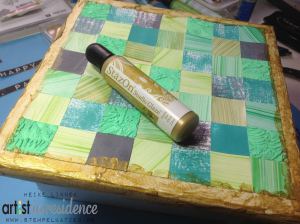 8. Cover the border with Gold StazOn Studio Glaze and let it dry.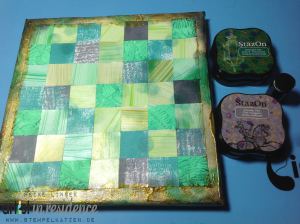 9. Sponge the border and highlight other areas with StazOn Emerald City and Cloudy Sky.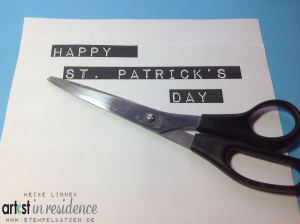 10. Print and fussy cut 'Happy St. Patricks Day'.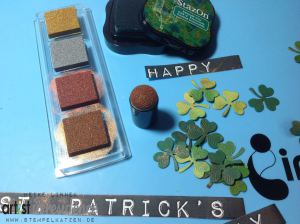 11. Die cut some shamrocks. Sponge the slogan and the shamrocks with Delicata 4 in Bronze Burst, Celestial Copper plus StazOn Emerald City to give everything an antiqued effect.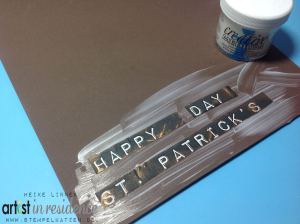 12. Adhere the slogan onto foam rubber using Creative Medium Original. Once dried, fussy cut the sentiment.
13. Attach the shamrocks, the ssentimat and printed washi tape to the canvas.