I Believe In You with Walnut Ink Crystals
Add mixed media touches to your next card project.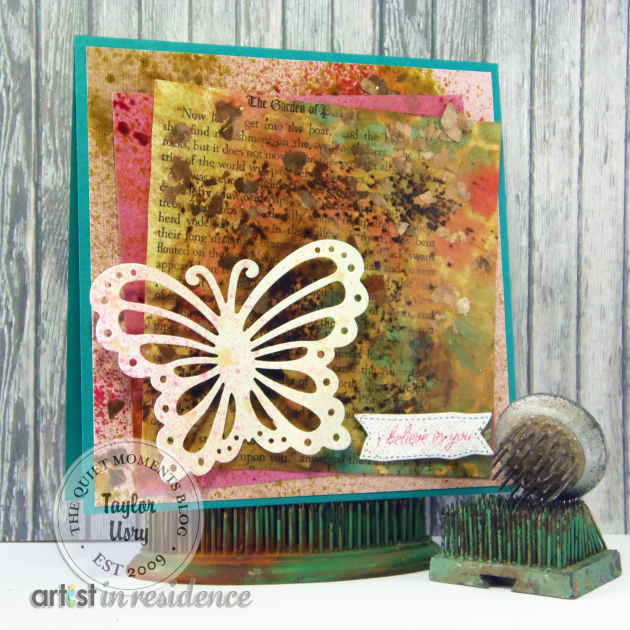 Place stencil onto book page. Sponge ink randomly to create a colorful pattern with Memento Rose Bud, New Sprout and Teal Zeal applied with an InkBlusher.
Spritz image with Sheer Shimmer Spritz Gold and Walnut Inks (Willow and Walnut colors).
Sprinkle Walnut Crystals on top of page before sprays have dried completely – this will cause the Walnut Ink Crystals to dissolve.
Spread a thin layer of gold embossing paste over the whole page; allow to dry completely.
Die cut butterfly and spray with multiple colors of Fireworks! and Sheer Shimmer Spritz Sparkle.
Die cut sentiment and stamp with Memento Rose Bud and Teal Zeal.
Lightly mist sentiment with Walnut ink (not pictured).
Cut cardstock panels and spray with Walnut Ink and irRESISTible Pear Tart and Rose Bud.
Sprinkle Gilded Mica Fragments onto the panels while still wet.
Overspray with Goosebumps Shimmer – the GooseBumps will act as an adhesive to hold down the mica.
Repeat the process on the book page.
Allow all pieces to dry and assemble card.