Love is definitely in the air this time of the year! Here is a special Bridal Shower card for that bride that likes to mix it up a bit. This not your traditional card but a tiny mixed media piece of art. You can have fun using the Bride's colors and flowers, whatever you like to personalize it.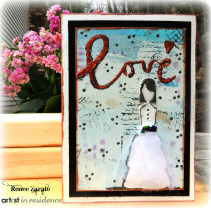 Directions
1. Create a Master board using Creative Medium, StazOn Studio Glazes, Ink and stencils on watercolor paper. Cut the panel to fit on a 5" by 7" card blank.
2. Use a stencil with Copper Creative Medium paste for sentiment. Apply Purple Creative Medium paste and stencil to add texture. Cut out gessoed, stenciled doll figure, glue to panel and decorate with StazOn Studio Glaze for the flowers and add a piece of tulle.
3. Decorate the doll with irRESISTible Pico Embellisher in Bronze. Highlight the copper word with the same Embellisher.
4. Mat the panel on a piece of black cardstock.
5. Adhere the entire panel onto the blank white card. Continue to embellish with irRESISTible Pico Embellisher Bronze by making small dots around the image and adjusting the hairstyle.