Some days you just have to create your own sunshine. This sentiment is true not only for the turbulent weather of Spring time but also in creating art. One of the ways I like to create my own artsy sunshine is monoprinting. A fun and easy technique that yields a sky full of sunshine every time.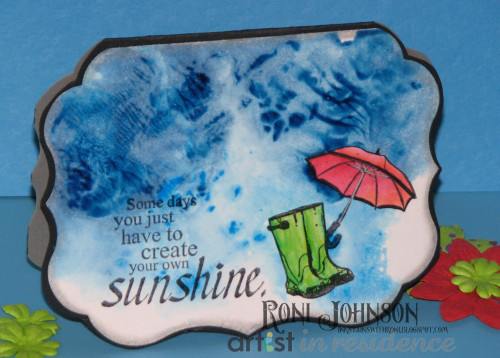 Directions: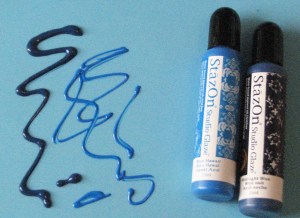 Choose 2 or 3 colors of StazOn Studio Glaze you would like to work with; Midnight Blue, Blue Hawaii and Silver were used for this example. Scribble the medium onto the Craft Mat.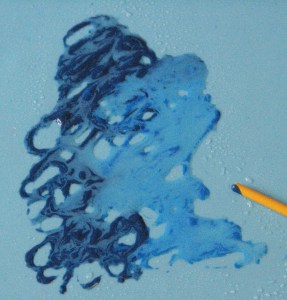 Mist the Studio Glaze with a bit of water; drag the tip of a paint brush handle or similar tool through the Glaze and water to slightly mix.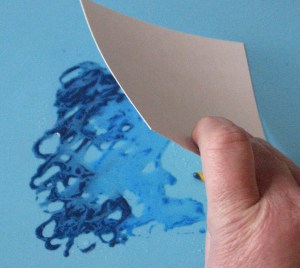 Place the cardstock over the medium ensuring the entire piece of cardstock contacts the glaze/water mixture and lift.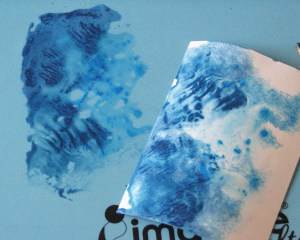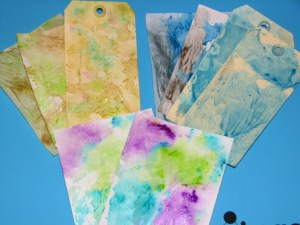 The beautiful random design will be revealed. Set the monoprint aside to dry naturally.
You will be able to pull multiple monoprints from this single mix of Studio Glaze and water. If needed add one or more squirts of water to the mix. Try a variety of color combinations to create an array of prints to have on hand for a quick card or embellishment.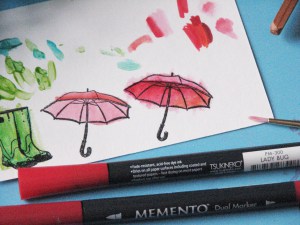 While the monoprint is drying, stamp desired images with StazOn Jet Black Ink. Color these images as desired and trim. For this example the boots were painted with a mix of StazOn Studio Glaze Cactus Green and Emerald City with Memento Markers in Angel Pink, Love Letter, Lady Bug, and Morocco.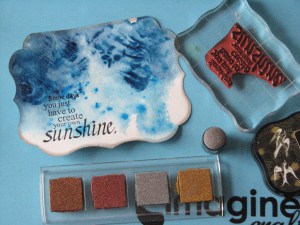 Once the Studio Glaze monoprint has dried, die-cut shape. Apply Delicata Silvery Shimmer to the edge using a Sponge Dauber and stamp sentiment with Jet Black StazOn ink.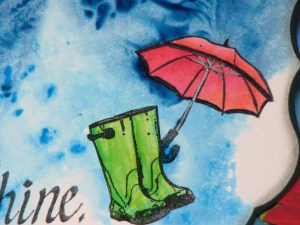 Mount boots and umbrella to the card; affix the card panel to a black die-cut card blank.