Make an April BABY Shower card! with Pico embellished umbrellas! Check it out!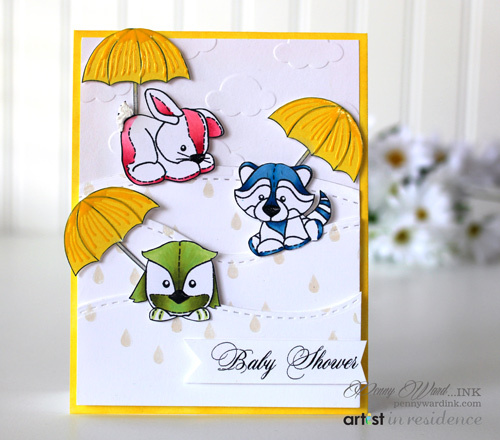 Directions: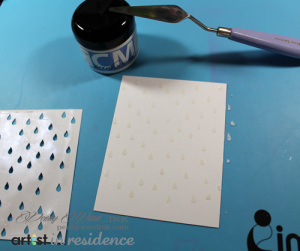 1. Cut white cardstock 4 x 5.25 inches. Using stencil cut with Silhouette Cameo, lather on Creative Medium Blue. Let dry.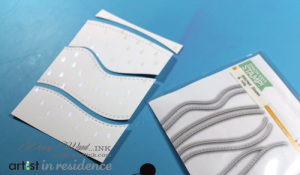 2. Cut Creative Medium panel with Stitched Hills & Slopes die. (the tiny top portion will get thrown away).
3. Cut white cardstock to 4 x 5.25 inches. Emboss with Clouds embossing folder. Arrange previously die cut Hills as desired and adhere to card front with foam adhesive.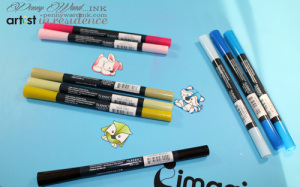 4. Stamp, color and trim baby animals as shown using Memento Markers.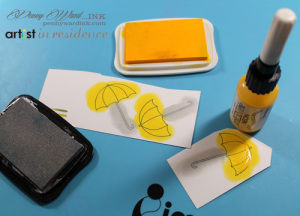 5. Stamp umbrellas. Ink them with Radiant Neon Yellow and the handles with Delicata Silvery Shimmer inks. Add irRESISTible Pico Neon Yellow to the umbrellas. Trim and adhere to back of baby animals as desired.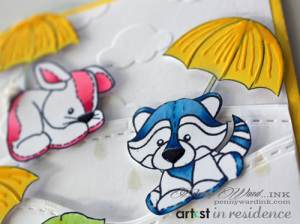 6 Adhere baby animals to "hills" on card front with favorite adhesive and foam adhesive. Add a tiny bit of White Amplify! to bunnies tail, heat and puff. Add irRESISTible Pico Shimmer to animal noses.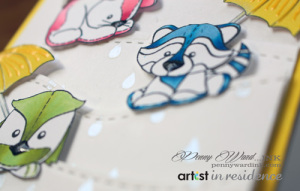 7. Cut white cardstock 4.25 x 11 inches fold in half to make a base card. Ink edges with Radiant Neon Yellow. Adhere card front to base card with favorite adhesive. Generate sentiment with computer and printer, trim, adhere to card front.