There is a wide range of symbolism associated with poppies...everything from loyalty, beauty, magic, consolation, fertility and even eternal life. They are in my opinion one of spring's most beautiful flowers with their ruffled, delicate petals and striking colors. While they are only around for a short period of time you can capture their beauty in this easy to paint canvas to enjoy all year long.
While it might not come to mind instantly when you think of painting, StazOn Studio Glaze lends itself very well to this art form. The translucent medium allows you to build up color gradually and can be mixed with other colors for a wide range of effects. You'll be amazed at how easy it is to create striking images with only a few colors.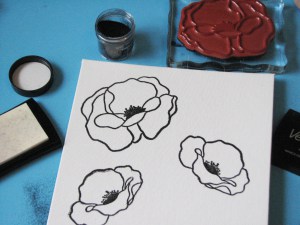 1. Stamp poppy flowers with clear VersaMark ink on a canvas art board. Sprinkle with black embossing powder and heat set.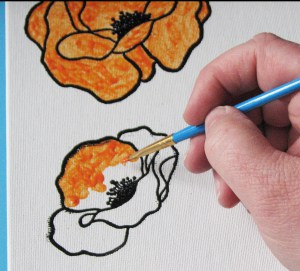 2. Apply the initial layer of color over the entire flower with StazOn Studio Glaze Orange Zest and let dry.
NOTE: Thinner layers of the glaze produce lighter tones while a thicker layer will look darker. Adding both thicker and thinner layers will result in a more realistic finished product.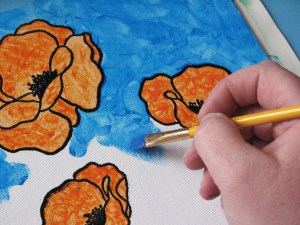 3. While the first layer of the poppies are drying cover the upper two thirds of the canvas background with Studio Glaze Blue Hawaii. Gradually mix in a bit of Midnight Blue.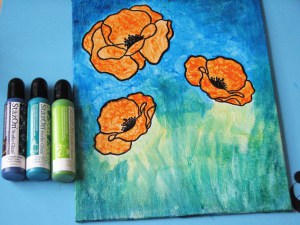 4. Cover the bottom portion of the canvas with a layer of Cactus Green. Blend in a bit of Emerald City and Midnight blue to create the look of foliage.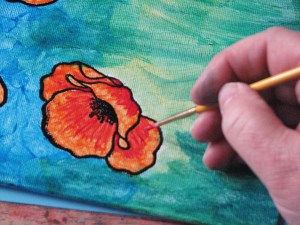 5. Resume painting the poppies this time adding St. Valentine (red) glaze two-thirds of the way up each petal.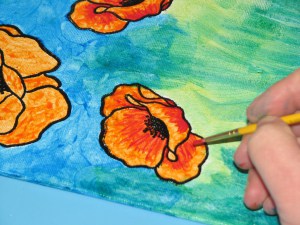 6. While the St. Valentine's glaze is wet, add Claret Studio Glaze along the bottom third of each petal using a thicker layer for added texture and depth of color.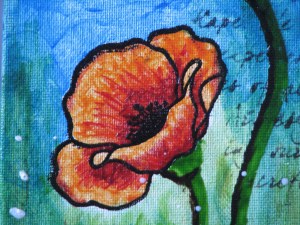 This is a close up of the flower once dry. You can see how the layers of glaze show through each subsequent layer for a beautiful effect.
7. Draw stems by applying a thick layer of both Spiced Chai and Emerald City. Let the entire canvas dry completely.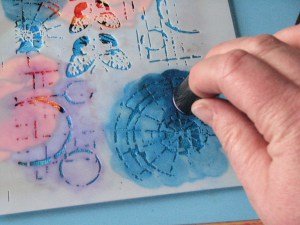 8. Add a bit of interest by stenciling text or other artistic elements in the white space of the canvas with StazOn inks.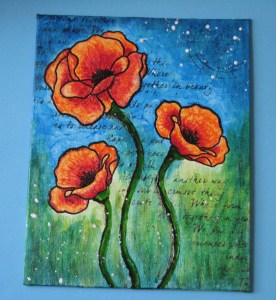 9. Lightly spritz Wedding Dress irRESISTible Texture Spray over the canvas and let dry.