I absolutely love St. Patrick's day – my grandfather had a bit 'o Irish blood in him so in a way I can honor him and have a wee bit of fun too! And what is more classic on St. Patty's day than celebrating with a wee bit 'o green and gold, like IMAGINE Crafts' Metallic Gold Creative Medium on this card.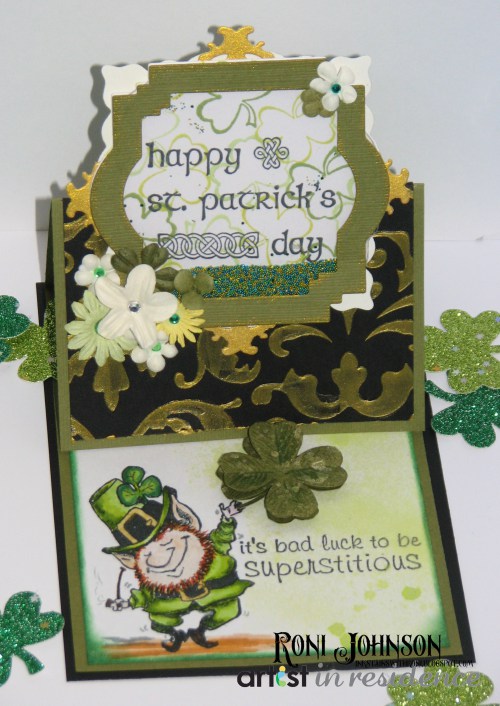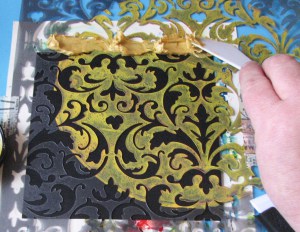 1. Trim a piece of black cardstock to desired size.
2. Position stencil over black cardstock and secure with a piece of washi tape.
3. Scoop the Creative Medium from the jar using the Scotty Palette Knife and spread through the stencil.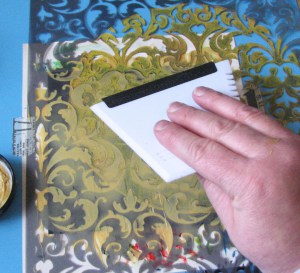 3. Pull the Creative Medium down over the stencil using the Multi-Purpose Squeegee until the entire piece of cardstock has been covered.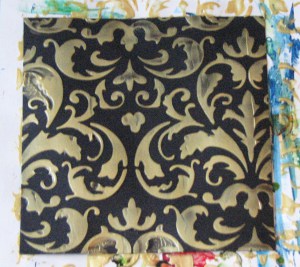 4. Carefully remove the stencil and wash stencil and tools immediately with warm soapy water. Allow the Creative Medium to dry completely.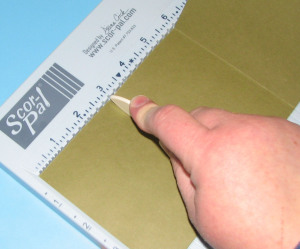 5. Cut a piece of green cardstock 4.25" x 12"; score and fold in half.
6. Trim the black cardstock with Creative Medium design down to 4" x 5.75" and mount on the front of the card.
7. Place the card on the Scor-Pal and score the front of the card at 3" and fold to crease. Unfold and set the card aside.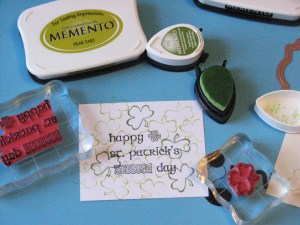 8. Stamp sentiment using Memento Tuxedo Black ink onto a scrap of white cardstock. Stamp shamrocks randomly using Memento Pear Tart, Bamboo Leaves and New Sprout.
9. Die cut sentiment using Labels 22; die cut a sheet of acetate (for the shaker window) and die cut a frame for the cover of the shaker from green cardstock.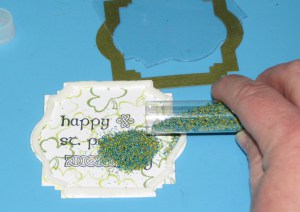 10. Assemble the shaker and fill with green and gold micro beads. Affix the previously cut cover and frame.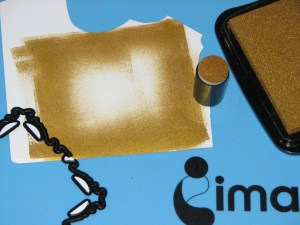 11. Ink a scrap piece of white cardstock with Golden Glitz Delicata Ink and die cut an ornate frame.
12. Layer the shaker over the die cut frame; mount the shaker to the card front applying adhesive only to the lower half of the back of the shaker. This will allow the shaker to stand up once the card front is propped open.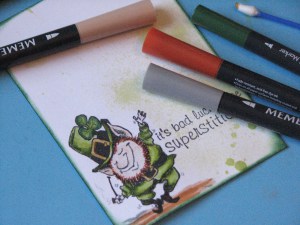 13. Cut a piece of white cardstock 4" x 5.75"; stamp leprechaun and sentiment on the lower portion of the panel. Color the image with Memento Markers. Add a spritz of Pear Tart Fireworks! spray to the panel.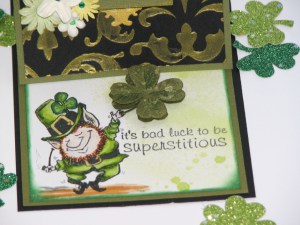 14. Stamp 4 leaf clover twice on green cardstock; trim; spritz with Pear Tart Fireworks! spray. Mount on the panel using double stick foam tape.