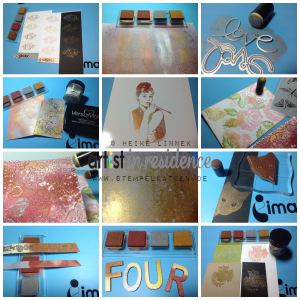 Dreams came true when I first used Delicata metallic inkpads! They offer a truly metallic surface effect with a brilliant shine. I carried them with me to every crafting party and couldn't stop using them, and nearly everyone who tried them were also hooked! And with the release of the Delicata 4 inkpad, there's now two more colors to choose from, Bronze Burst and Celestial Copper.
#1 Stamping on Light AND Dark Papers, including Glossy

The four metals shine bright on every cardstock, even on black. The ink pads are very saturated, stamping doesn't needs much pressure. It takes a little practice to stamp on glossy cardstock but this is learning by doing.
#2 Mixing Metallics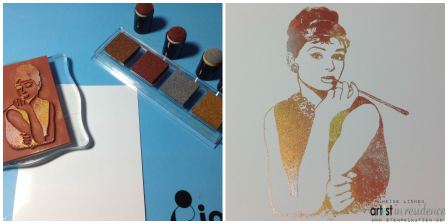 Use sponge dauber to cover the motive with all four colors. Stamp it and admire the individual result.
#3 Resist Techniques with Delicata

Stamp with VersaMark ink, then add clear Embossing Powder and heat set with a heat tool.
Apply Delicata 4 using Sponge Daubers. Let it dry.
Wipe the surface with a tissue to reveal the stamped image.
#4 Embossing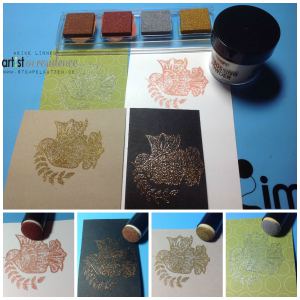 Stamp the image with Delicata 4 pads. Add clear Embossing Powder and heat set.
The metals look different than usual when using this technique. They have a glossy shine and a completely different look.
#5 Using Delicata on Wood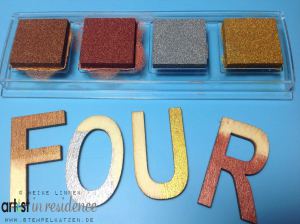 Use Delicata 4 to ink wood. Create metallic letters, embellishment pieces (for example with Handcut Monterey Pine) or branches for home decoration.
#6 Using Stencils and Embossing Folders

Use Delicata metals with stencils using a Sponge Dauber.
Emboss card stock with embossing folder.
Highlight the relief by spotting with a Sponge Dauber after embossing, or ink the embossing folder first before passing through your machine for a letterpress effect.
The same technique is usable if working with embossing paste.
Sponge the border and the edges to create a framed look.
#7 Metallic Highlights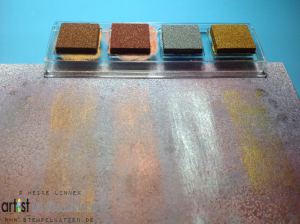 Modify surfaces with a thin metallic layer. Work directly with the ink pad or apply using InkBlushers or Sponge Daubers for creating vintage and antique metallic effects.
#8 Die Cut Words and Letters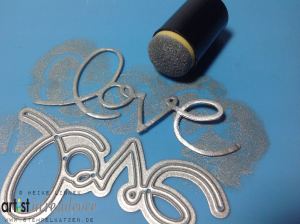 Die cut your favorite sentiment or letters.
Color using a Sponge Dauber for a truly metallic look
#9 Metallic Color Washes

Ink glossy cardstock with Delicata 4.
Immediately spray water on it and pat it dry with a tissue. Don't wipe, only dab!
Because Delicata is a water based ink, you'll soon discover a completely new unique look!
#10 Coloring Ribbon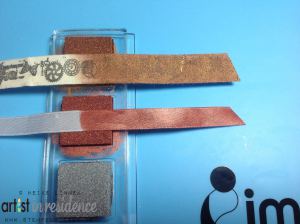 Color your favorite ribbons by passing your ribbon across the surface of the inkpad.