It was time to reorganize my craft room. But that didn't last long because an old stamp with a prayer crossed my way. For a few weeks now I've had fun playing with Walnut Inks. The idea of combining the stamp and the Walnut Ink was born and had to be realized immediately. Why clean and organize when you can create?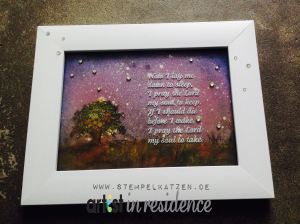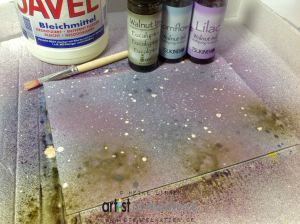 1. Spray Walnut Ink in Cornflower, Lilac and Eucalyptus all over the white cardstock as shown on the photo. Let it dry.
2. Spritz chlorine bleach using a paint brush to create stars. Stop in between applications to observe how the bleach works and the amount that is being applied for achieving the desired results.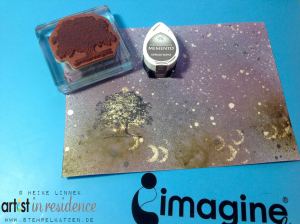 3. Stamp the tree with Memento Espresso Truffle.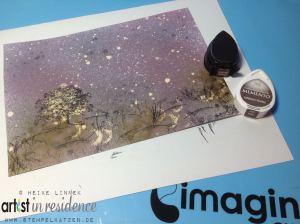 4. Create a first landscape base under the tree by working directly with the same ink pad.
5. Continue working on landscape adding additional colors of Memento inks in the same way.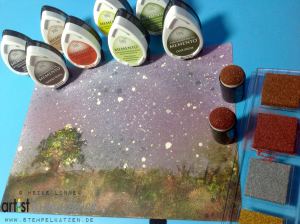 6. Highlight the landscape sponging some areas with Delicata 4 in Bronze Burst and Celestial Copper using a Sponge Dauber.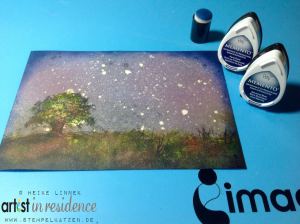 7. Ink the border to create more depth with Memento Nautical Blue and Paris Dusk.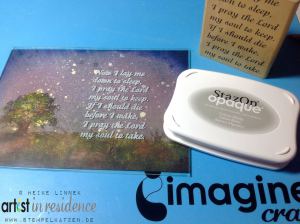 8. Stamp the sentiment using StazOn Opaque Cotton White onto the photo frame glass front. If the imprint doesn't work, it could be corrected with a baby wipe and a tissue as long as the StazOn is wiped away immediately.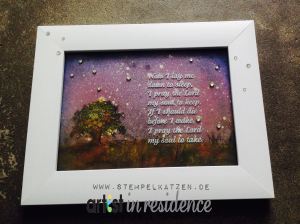 9. Re-assemble the frame with the completed artwork inside.