Elegant Vertigo
Vertigo takes on an elegant look in this stunning card with a Monterey Pine butterfly focal point. Perfect for any special occassion.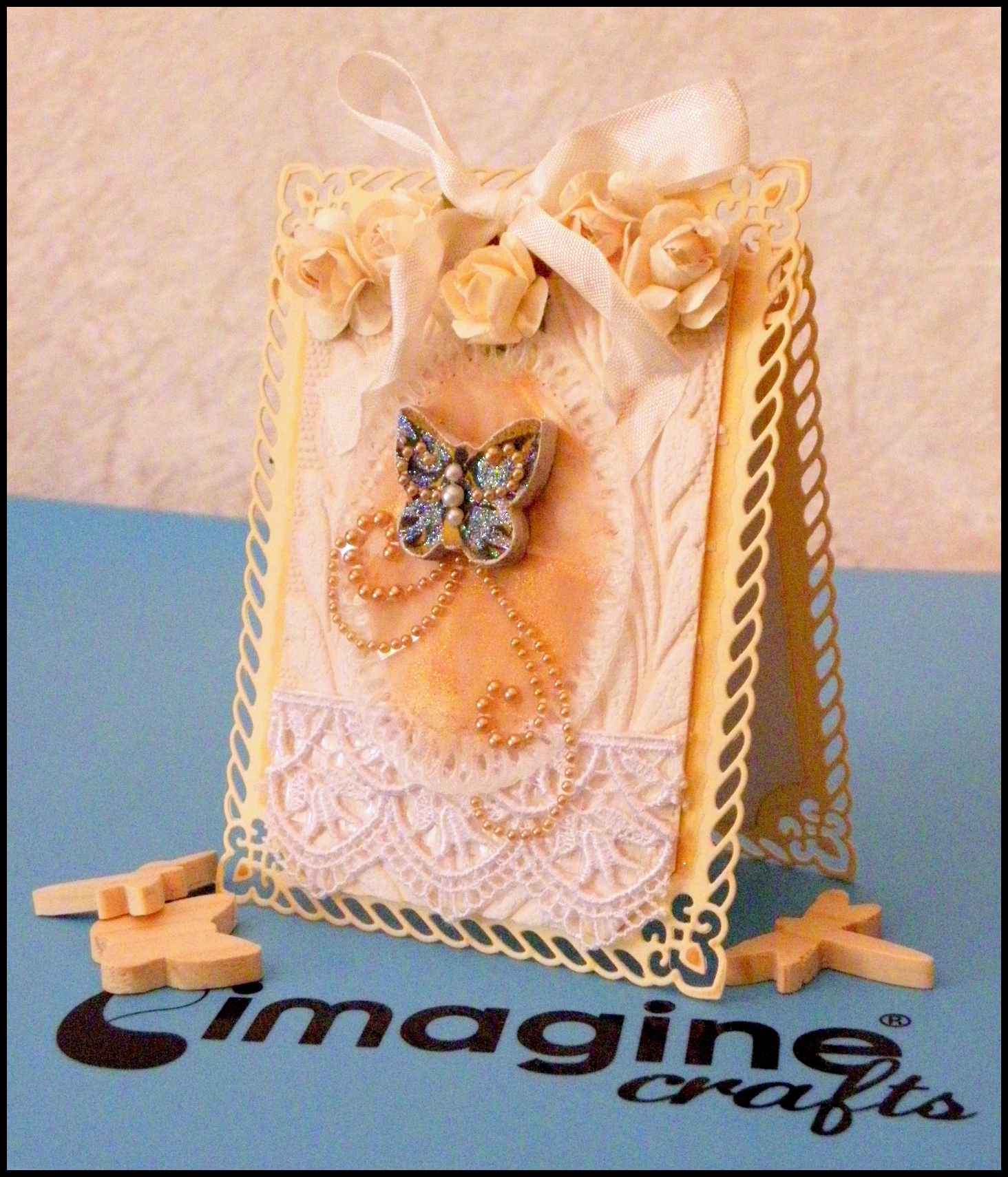 Cut/emboss the Vertigo using Elegant Ovals Nestabilities and the Grand Calibur Cutting machine. Note: Metal Shim will be required.

Using the die as a stencil, turn the Vertigo over so the textured side is on top and color with Memento Desert Sand using a Sponge Dauber.

Cut/emboss two (2) A2 Valiant Honor Nestabilities from cream cardstock.

Use the die as a stencil and color with Memento Desert Sand.

Score one A2 Valiant Honor Nestabilities 1/2" from the top.

Fold forward and apply double sided tape.

Line up the die cut pattern and adhere the front to the back to form the card base.

Cut wallpaper remnant to fit inside the patterned edges.

Adhere wallpaper to card base using double sided tape.

Add lace, seam binding and paper roses to the lower portion of the wallpaper using liquid glue.

With liquid glue, adhere colored Vertigo to the layered base.

Sponge the edges of the Monterey Pine Butterfly with Dessert Sand.

Stamp the butterfly image into the Monterey Pine butterfly using Jet Black StazOn.

Colour the stamped image using Brilliance in Pearlescent Sunflower Yellow and Pearlescent Orange, applied with Fantastix applicators.

Sponge the edges of the butterfly with white paint.

Add Liquid Glitter to the butterfly.

Adhere the butterfly to the center of the Vertigo Oval.

Attach pearl bling as shown in the photo.