Product Overview
Fantastix applicators are paint brushes for inks.
As natural in the hand and as easy to control as a marker
Absorbent fibers allow for precise application of inks and other materials
Available in both rounded ("bullet") and conical ("brush") tip styles. Use the side of a brush tip for larger areas and the tip for detailed work. The bullet tip is perfect for blending on paper and fabric
Use with a variety of different mediums including chalks and our All-Purpose Inks
Reusable, just use the cap to keep them inky
Please note: Fantastix tips cannot be sharpened but can be reshaped by cutting
Available in 6-piece sets and bulk sets, with and without caps
Conforms to ASTM D-4236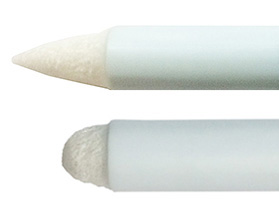 Brush tip above, Bullet tip below.