The Essential Glue Pad Product Overview
The Essential Glue Pad transforms any stamp into a clear adhesive for beautiful fine glitter effects. Get instant results with no heat setting required on paper. These glue pads come in a kit-- an unlinked pad and glue inker. To begin using the glue pad apply the glue and be sure to replace the thin liner that comes with the kit. The glue pad features a substantially raised pad surface to accommodate even the large stamps and does not dry out easily. Please read the instructions on the case. The glue pad is perfect for pearlescent powders, chalks, metallic foils, ultra-fine glitter, embossing powders and much more.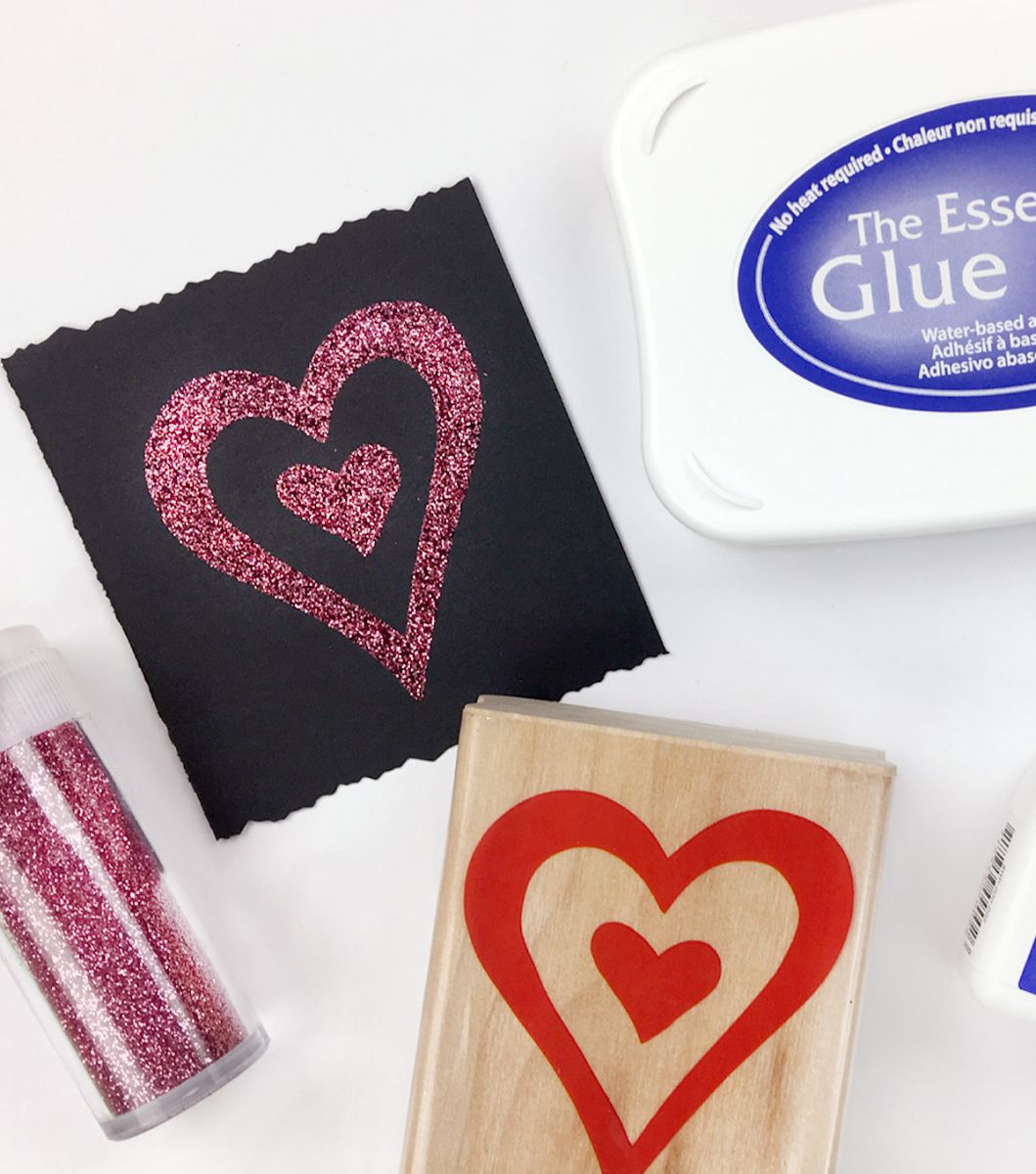 For precise applications, the adhesive can also be applied directly from the bottle to Sponge Daubers, Fantastix and other applicators. Best surfaces: Coated cardstocks (glossy and matte), vellums, acetate and shipping tags. Glue applies clear and dries clear. Easy clean up with warm water. No need to clean Glue Pad between uses. If build up of glitter, etc. occurs, wash with water and allow to dry. Water-based; archival and acid free. Conforms to ASTM D-4236. The Essential Glue Pad kit includes a dry pad with an inner protective liner and one bottle (0.5 fl oz) of adhesive. Adhesive bottles are also sold separately.
Tips for using the Glue Pad:
Apply glue liberally to the pad.
Press stamp several times onto the pad to gather as much glue as possible.
Important: After applying the medium to the glue, place a piece of scrap paper over the project and press down with hands or a brayer, or burnish with a bone folder. Pressing the medium into the glue will encourage the glue to "grab and hold" the medium.
Replace inner liner after use.
Use on coated or dense cardstock for best results.
Quick Troubleshooting:
Make sure the pad is saturated with glue -- the more, the better.
Textured and handmade papers are not recommended, as glue absorption may be uneven. If a paper soaks up ink quickly or unevenly, it will do the same with glue.
Always allow glue to dry completely before removing any excess medium that has been applied. We recommend 15 minutes, but the time can vary depending on paper type and mediums used.