This is a fun project to do with an old photo of yourself, your kids or friends. The only old photo I had in my stash is one taken of me several years ago when I was still working in sales. It is a black and white photo which is great since color can be added to the picture. The idea behind a self portrait like this is to make the background and the body look like things that you like to do or dresses you'd like to wear but never would. You can be as "girly" as you like in a piece like this. It is, after all, just for fun and is designed to stretch your imagination!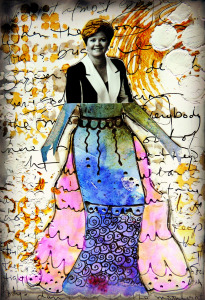 Directions:
Step one: Use a stencil or magazine photo to sketch out a female doll figure on an old Gelli Plate piece of paper. Decorate with an irRESISTible marker, cut off arms.
Step two: Find an old photo of yourself or someone else, preferably black and white. Highlight some features if you like with colored markers.
Step three: Place female form on paper and sketch a large section of dress. Place photo where the head would be on the silhouetted form. Decorate extra parts of the dress with a Pico Embellisher, dry.
Step four: Write the lyrics of a song in the background. Use StazOn Studio Glaze for the extra pieces of the dress, water down and paint on with a paint brush. Spray Gold and Pewter Sheer Shimmer Spritz through stencils. When dry, place another stencil over the paper and highlight areas with white gesso. Dry.
Step five: Glue the silhouette and the photo onto the finished background. The black and white photo can be further enhanced with Memento Markers. This can be adhered into an art journal or even used as the cover.