When creating a mixed-media project it is fun and interesting to have lots of texture. This panel can be used as a piece of home decor or you can make a card using the technique, whatever direction your muse leads you in.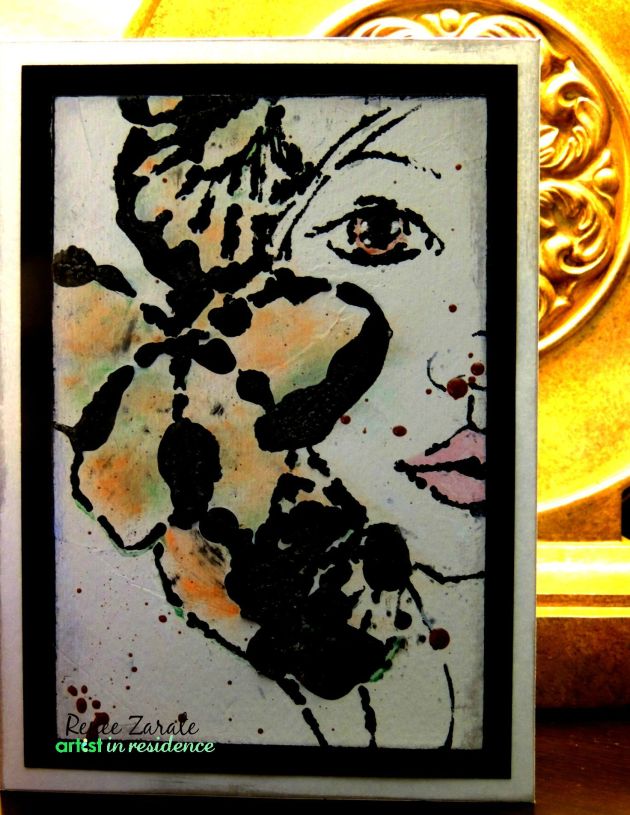 Directions:
Step 1
Cut a piece of water color paper to measure 6" by 4", using a palette knife apply a thin layer of gesso. Allow to dry completely. Place a face stencil over the panel and use an InkBlusher to apply StazOn Jet Black through the stencil. Color the eye and lips with Memento Markers in Angel Pink and Peanut Brittle.
Step 2
When the panel is dry reposition the stencil over the face. Carefully apply Amplify! in black directly to the stencil, smooth edges down to cover completely the area that is chosen. Remove the stencil and heat the Amplify! It will puff up. After it puffs up, allow it to cool completely. When cool apply Silver ink lightly to the top. Apply the Neon Green and Orange ink to the butterfly with an InkBlusher sponge. Pour a tiny portion of irRESISTible Copper onto the craft mat. Put a paint brush into the Copper irRESISTible liquid, tap the edge of the brush to get a nice splatter across the panel. Dry.
Step 3
Mat the panel on a piece of black card stock. To make a card just adhere the entire panel to a blank white card. Ink edges.