Summer usually signals a break in our normal routines, be it a long vacation stay or perhaps just a few interesting day trips here and there. Either way it is an opportunity for us to make some memories and preserve them in a handmade travel journal.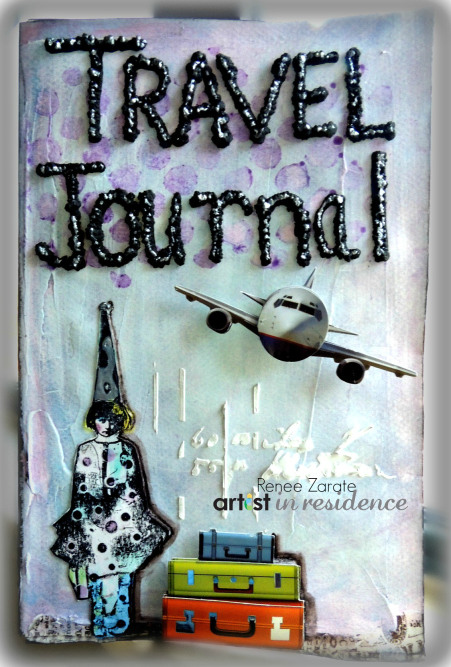 Directions:
Step one: Fold a large sheet of watercolor paper into eight sections. Make a cut lengthwise between the second section to the end of the third section. Fold in half lengthwise, push paper together to make a four page book.
Step two: Using washi tape, close openings on bottom of book and form pockets inside book.
Step three: Laying book flat exposing front and back of book, use the Scotty Palette Knife to apply a thin layer of gesso and allow to dry.
Step four: Apply StazOn Studio Glaze first in Claret with a baby wipe. Continue to layer colors following with Blue Hawaii and Gothic Purple. Wipe with a baby wipe until desired color is achieved. Using a stencil add more of the Gothic Purple color and heat set .
Step five: Using a Memento marker, write words and date on front and back. Apply Amplify! to the front cover on top of the written title, heat with a heat tool and allow to cool.
Step six: Stamp image on scrap piece of card stock, cut out.
Step seven: Glue the image and stickers to the front cover of the journal. Using a stencil and gesso, add more detail to the front and back covers. Allow to dry. Apply StazOn Studio Glaze in Silver on top of the title words to highlight them.