When you want just a whisper of color, StazOn Studio Glaze is the product to use! On this project Studio Glaze was applied to the back side of Vertigo Breeze and also onto glossy cardstock.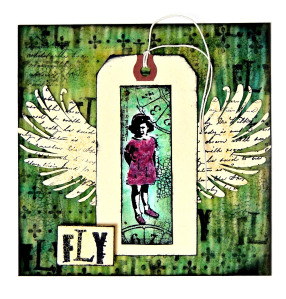 Directions: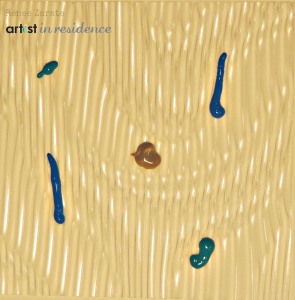 1. Apply StazOn Studio Glaze to the back side of a 6" by 6" piece of Vertigo Breeze. Use dots of several different colors and blend them with an InkBlusher sponge to which rubbing alcohol has been applied. When satisfied with the effect, set the panel aside and allow it to dry.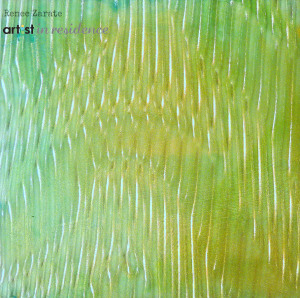 2. Working on the opposite side of the Vertigo, stamp patterns and images with StazOn Jet Black ink; dry.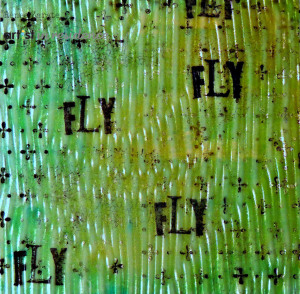 3. Stamp images on glossy cardstock with StazOn Jet Black and allow to dry.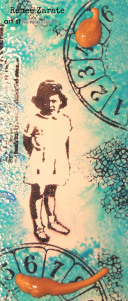 4. Begin adding the same colors of Studio Glaze to the glossy cardstock avoiding the face of the image. If some of the Studio Glaze ends up in the wrong spot just remove it with rubbing alcohol.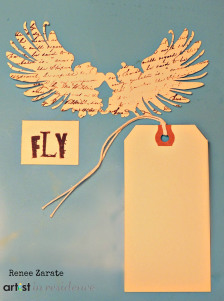 5. Stamp script on manila wings and the 'fly' onto a piece of scrap manila paper with StazOn Jet Black.
6. Stamp the crackle pattern across the wings and 'fly' with Delicata Golden Glitz.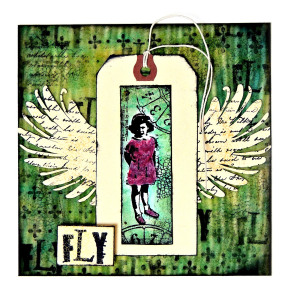 7. Trim the stamped panel from the glossy paper to fit and then glue it to the shipping tag.
8. After distressing edges with Jet Black ink, glue the stamped wings, the shipping tag and the word to the Vertigo panel.
9. Glue the entire panel to a 6" by 6" burlap canvas .