Who doesn't love Peeps - these sweet treats are popping up everywhere this time of year. I knew when I saw these little bunny stamps for the first time they would look spectacular covered with a layer of bright, colorful Radiant Neon Amplify!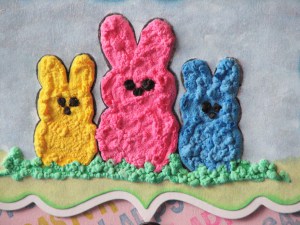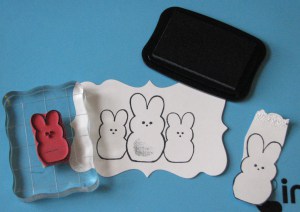 1. Die cut a panel from white cardstock.
2. Stamp large bunny in the center of the card; stamp off on scrap paper and trim to use as a mask. Cover the large bunny with the mask and stamp a medium size peep bunny on either side of the large one.
NOTE: Don't worry if you get extra ink in the centers - it will be covered up in the next step.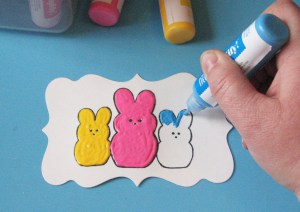 3. Cover each bunny with a different color of Radiant Neon Amplify! Here I used Electric Yellow, Electric Pink and Electric Blue. Add a dot of Black Amplify! for eyes and noses on each bunny and Electric Green along the bottom to simulate grass.
4. Use a heat tool to heat and puff the Amplify! medium.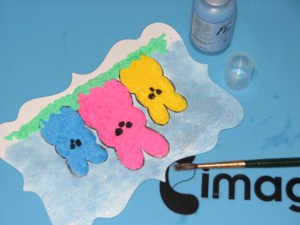 5. Shake Summer Sky and Pear Tart Fireworks! spray and then squirt a bit of the Summer Sky into the cap and use a paint brush to apply it to the sky area around the bunnies. Repeat this step using the Pear Tart Fireworks! below the Amplify! grass area.
6. Apply Memento ink to the edge of the panel using a Sponge Dauber; mount on a white die cut mat and set aside.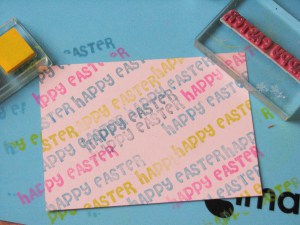 7. Cut a 4.25" x 6" pink cardstock panel. Stamp "Happy Easter" repeatedly over the panel using Radiant Neon Electric Yellow, Electric Pink and Electric Blue inks; ink the edges using Electric Blue ink and a sponge dauber.
8. Mount the pink panel on a blue card and affix the bunny panel over top.
9. Finish off the card with a few faux half pearls.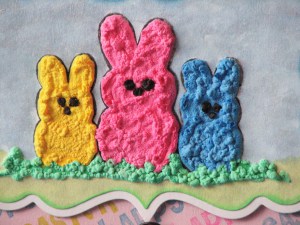 Here is an up close photo of the texture from the Radiant Neon Amplify!