I love the rustic look achieved roughly smoothing out the metallic creative medium! Once dry you find some jagged edges and variations in color that add interest to the card.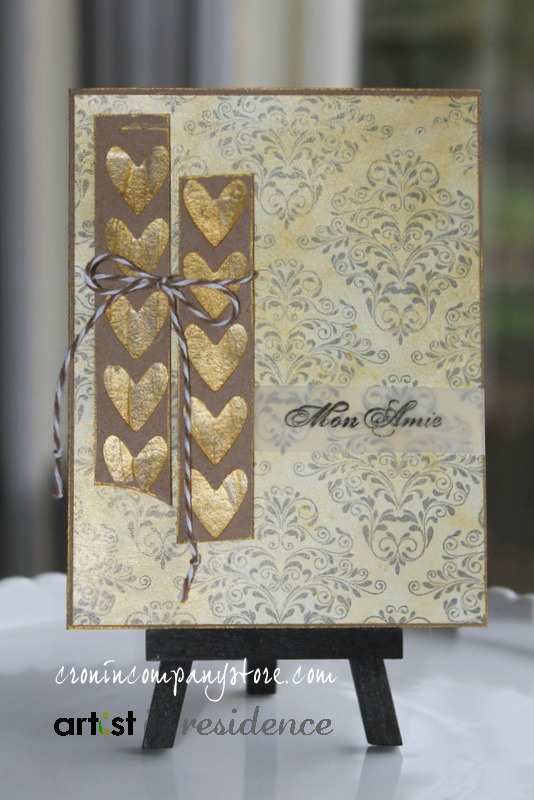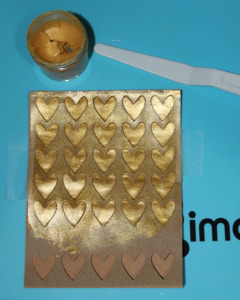 1. Die cut heart pattern from scrap paper.
2. Secure pattern over a 4" x 5" piece of kraft paper.
3. Using trowel, sweep Metallic Gold Creative Medium over hearts and smooth out the medium with the side of the edge of the tool.
4. Remove heart stencil immediately and allow to dry completely.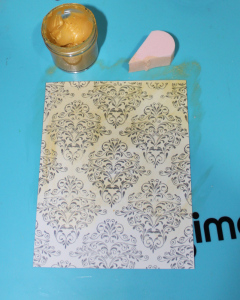 5. Using Memento Luxe Gray Flannel, stamp background on 4" x 5" white cardstock.
6. Once dry, using an InkBlusher, sweep the Metallic Gold Creative Medium lightly across card to give a vintage look and allow to dry completely.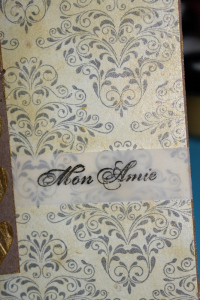 7. Trim edges of white cardstock to fit to 4.25" x 5.5" folded card.
8. Stamp 'mon amie' with Memento Luxe Tuxedo Black on a vellum scrap and clear emboss.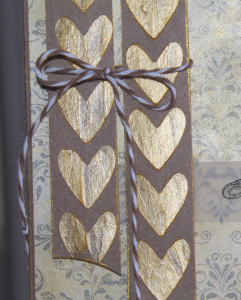 9. Cut hearts into strips and edge strips with Delicata Golden Glitz.
10. Adhere 2 strips roughly to left side of card using dimensional tape.
11. Adhere 'mon amie' strip of vellum under hearts and to right edge of card.
12. Tie piece of bakers twine around hearts and tie in a bow.