Grow Where You Are Planted Small Art Canvas
Combine IMAGINE Crafts inks with your favorite die cuts and mixed media supplies to create your own mixed media canvas.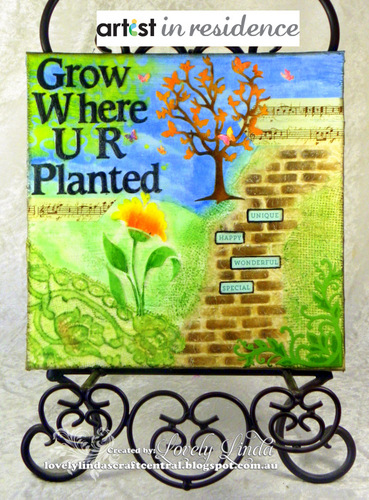 Prepare canvas by applying a coat of gesso and allowing to dry completely (overnight).
Apply Memento Summer Sky to the top half of the canvas with a Jumbo Dauber.
Using the brick stencil and a Sponge Dauber, create a brick path using Memento Desert Sand, Rich Cocoa and Espresso Truffle inks, applying as many coats as desired.
Apply a coat of Creative Medium using an InkBlusher while the Stencil is still on - you can see the close up in the photo above. *NOTE: Wash stencil with warm soapy water straight after use.
Tear down both sides of the brick path
Adhere the brick path to the canvas and apply some texture paste to blend in the torn edges.
Color a piece of burlap and decorative lace using Fireworks Craft Spray in Pear Tart and allow to dry.
Adhere the colored burlap and lace to the canvas using texture paste.
Rub Memento Bamboo Leaves over the lace, burlap and the textured areas of the canvas.
Add color variation to the sky by sponging with a piece of torn cardboard/paper towel and Sponge Daubers with Memento Danube Blue.
Apply texture paste with a palette knife to the floral portion of stencil , remove the stencil and allow the paste to dry.
Color the floral image by replacing the stencil down, and using Sponge Daubers color the flower with Radiant Neon Electric Yellow and Electric Coral. Repeat to color the flower stem and leaves with Memento Bamboo Leaves.
Die cut sentiment from black cardstock with the Font One die.
Place cut letters onto Washi Tape to avoid losing any letters as shown.
Sponge color onto the top left corner using the patterned stencil and Electric Yellow.
Spray the same area with Fireworks Dandelion and allow to dry completely.
Adhere the die sentiment to the canvas, followed by a coat o Creative Medium.
Cut/emboss Flourishes Die from green cardstock.
Before removing the die, use the die as a stencil and color with Memento Bamboo Leaves.
Adhere to lower right hand corner then apply a coat of Creative Medium.
Cut/emboss Whimsy Tree Die from brown cardstock.
Color the leaves using Memento Espresso Truffle and a Sponge Daube, followed by a coat of Creative Medium.
Cut extra butterflies and apply randomly on trees and surrounding sky.
Apply strips of decorative washi tape as desired.
Adhere sentiment stickers onto bricks, drawing around each one with a permanent black marker.
Seal the completed canvas with at least one coat of Creative Medium.