Friendship Frame
A simple frame turns into a home decor piece fit for you living room.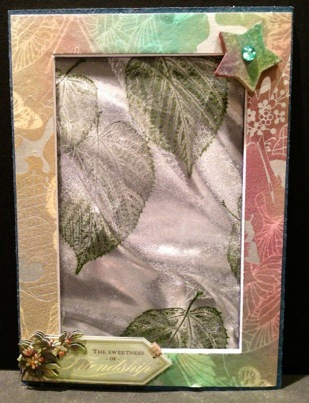 Using an embossed paper from KaiserCraft, apply Brilliance in Platinum Planet, Pearlescent Ice Blue, Galaxy Gold and Pearlescent Jade inks with Jumbo Daubers.

Cut paper to fit onto a 5"x7" photo frame mat from your local craft store.

Adhere the colored paper onto the photo frame; set aside.

Spray photo frame heavily with Shimmer GooseBumps and allow to dry completely.

Randomly stamp the leaf image onto the Taffeta Vertigo with StazOn Opaque Cotton White.

Using an InkBlusher, blot GlazOn over the entire film surface.

Stamp the same leaf image with StazOn in Olive Green.

Lightly apply Shimmer GooseBumps over the stamped Vertigo to seal the artwork.

Center the stamped Vertigo piece within the frame. Tape securely in place on the backside.

With a small ink dauber, apply the Brilliance ink in Pearlescent Jade, Galaxy Gold and Platinum Planet to the top and sides of the Monterey Pine Star.

Liberally apply Shimmer GooseBumps (dauber top bottle) directly onto the inked wood piece. Allow to dry.

Apply a crystal to the center of the star.

Adhere the star to the upper right inside corner of the mat frame.

On the lower left corner of the frame, apply a 3-D dimensional sticker.