It is always nice to have artistic yet practical storage containers. Think outside the box (pun intended) to make unique to you and your style, storage units. This box was designed using stencils specifically to hold StazOn Studio Glaze bottles.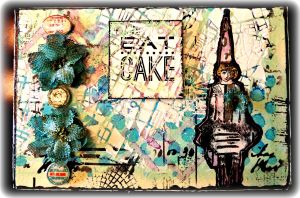 Directions:
Step one:
Find a study box that suits your storage needs, this one measures 5 ½" by 8 ½" and houses bottles of StazOn Studio Glaze. Paint the exterior of the box with white, heavy Gesso to make it even more sturdy, allow to dry.
Step Two:
Using StazOn Studio Glaze in several colors along with stencils, create a master board that is large enough to cover the box. Water color paper measuring 11" by 15" is a good size leaving plenty of designed paper to cover the box and allow room for error or for use in other projects later.
Step Three:
Stamp random background stamps with Jet Black StazOn ink on top of the colored paper. Using different stencils and multiple colors of Iridescent Creative Medium Pastes, continue to add textures and colors to the master board. Allow to dry thoroughly. Applying white gesso through a stencil aids in pulling all the colors together on the master board.
Step Four:
Measure the sides and top of the box and begin cutting the pieces to fit each section. Adhere to the box with a strong adhesive.
Step Five:
After adhering the paper to the box begin adding ephemera to the box. When the box is open cover the inside edges with Chalk Board paint or a piece of Black Chalk Board tape.
Step Six:
The fun part of decorating the cover of your unique box is the best part. Use scraps, stamps, flowers, whatever is handy and plentiful in your stash. Now fill the box with your choice of products.