When my kids were little, one of our favorite things to do was to gaze up at the sky and look for shapes in the clouds. Of course after rain storms we were looking for rainbows. This card combines both with Radiant Neon Amplify! Check it out!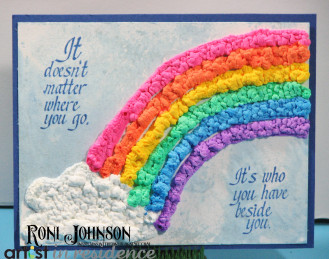 Directions:
1 Spritz Summer Sky Fireworks! spray onto a piece of white cardstock.
2. Draw a fluffy cloud in the lower left hand corner using white Amplify!
3. Working quickly, draw lines in an arch from the cloud to the right hand side of the card panel. I used Electric Pink, Electric Orange, Electric Yellow, Electric Green, Electric Blue and Electric Purple.
4. Heat the Amplify! to activate and fluff up the medium.
5. Stamp sentiment on the card using Bahama Blue Memento Dye ink then mount card panel onto blue card blank.