Here's a salute to all the women I know…and that goes for you! We don't take credit for all the super things we do on a day to day basis…from stay-at-home mom's taking care of homes, their family and all the extra errands that randomly pop up. To the working women who answer to many bosses and wears numerous hats. To the farm or ranch woman that rises before her husband to make sure he has what he needs to start the day. We are the people who keep it together, are a source of inspiration and touch so many peoples lives in little ways we may never know. Give yourself a pat on the back and let's flex our muscles and show off our Girl Power!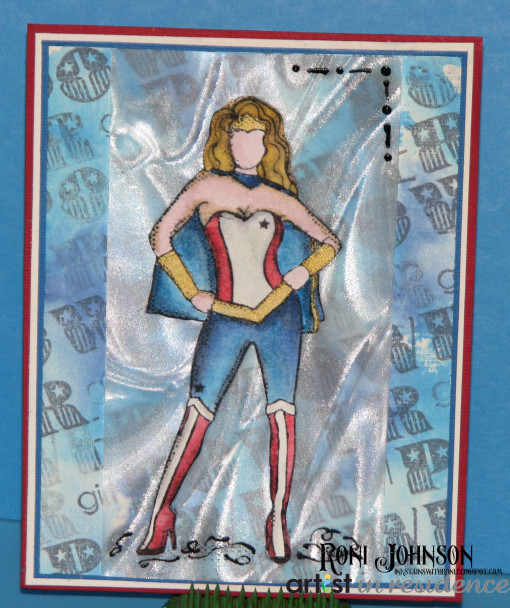 1. Stamp image on white cardstock using Tuxedo Black Memento Ink.
2. Pounce desired color(s) onto stamp block and pick up the colors (one or more at a time) and color in the various areas of the image using a watercolor brush.
Color guide for this image: Cape & Tights: Danube Blue, Bahama Blue, Grey Flannel; Boots & Top: Lady Bug, Rhubarb Stalk; Top (white area): Grey Flannel; Skin: Angel Pink, Desert Sand; Hair: Dandelion, Peanut Brittle, Rich Cocoa; Arm Band, Belt & Head Piece: Delicata Golden Glitz
Set the image aside to dry completely.
3. Using a larger stamp block, pounce one or more colors of ink onto the block Danube Blue and Bahama Blue were used for this card.
4. Spritz the ink with water.
5. Press a piece of white cardstock into the ink/water mix, peel off the stamping block and set it aside to dry.
6. Stamp the sentiment repeatedly over the background paper using Grey Flannel until the entire panel has been stamped.
7. Once the main image has dried, trim away the excess paper.
8. Stamp the main image on a piece of Taffeta Vertigo Film using Jet Black StazOn ink.
9. Adhere the watercolored image over the stamped image on the Vertigo film.
10. Use the Tuxedo Black irRESISTible Pico Embellisher to enhance the stamped ground area and to add a decorative element to the upper right hand corner. Set aside to dry.
11. Mount the stamped background on red, white and blue mats, affix the Vertigo Film panel over the background.