StazOn Studio Glaze is a perfect way to add bright vibrant colors when spread on your project but it can also provide amazing depth and texture which is why I used it both ways on my wedding make-over place cards. Since my colors are blue and gold I decided to use blue for our female guests and gold for the male guests.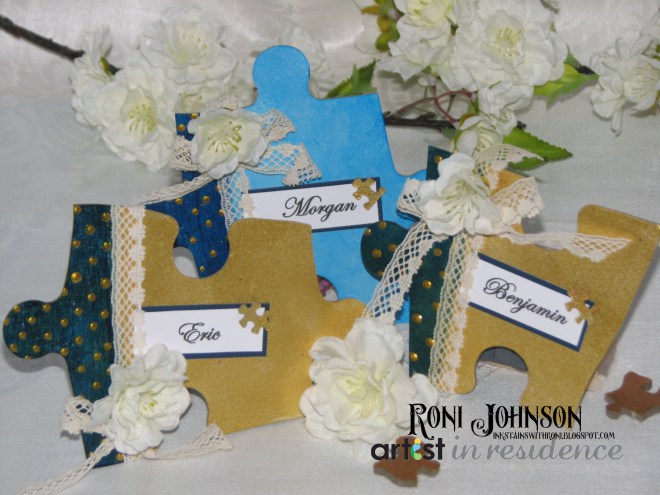 Directions
1. Use a Sponge Dauber to apply Delicata Golden Glitz to all of the men's place cards; use a heat tool to set the ink.
2. Apply Blue Hawaii StazOn Studio Glaze using an Ink Blusher onto each puzzle piece for female guests.
3. Once the ink and Studio Glaze has dried, apply Midnight Blue StazOn Studio Glaze with an Ink Blusher to the left quarter of each puzzle piece and let dry.
4. Add gold polka dots to the Midnight Blue area on each puzzle piece using Gold StazOn Studio Glaze.
5. Print each guests name on a piece of cardstock; trim and mount on dark blue cardstock.
6. Finish each place card by adding vintage lace, silk apple blossom and the matted guest names.