My favorite season of the year is Spring, watching the world come alive. I wanted to create a freehand card that is simple to replicate that didn't involve any stamping or stencils, just my interpretation of the trees and flowers around me.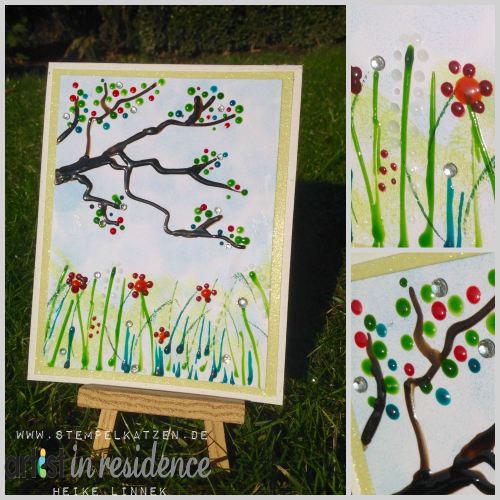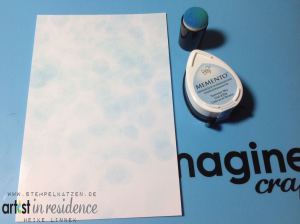 1. Cut white glossy cardstock to 4" x 5.25".
2. Color the sky area with Memento in Summer Sky using a Sponge Dauber.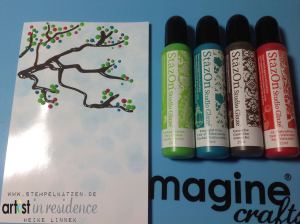 3. Freehand draw the branches with StazOn Studio Glaze in Ganache.
4. Decorate the branches with dots in various sizes using Studio Glaze in Cactus Green, Emerald City and St. Valentine.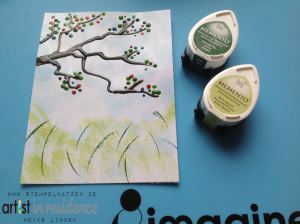 5. Create a delicate landscape background by working directly onto the paper from the Dew Drop inkpads with Memento New Sprout with a touch of Cottage Ivy.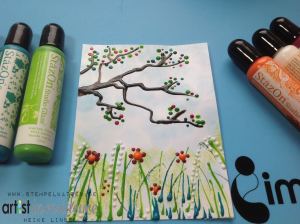 6. Create grass and flowers directly from the Studio Glaze Bottles. Allow to dry completely.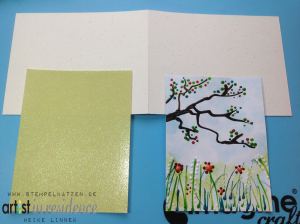 7. Cut green glitter cardstock to 4.25"x 5.5" to use as the mat layer.
8. Cut/score card base from white cardstock to a finished size of 4.5" x 5.75".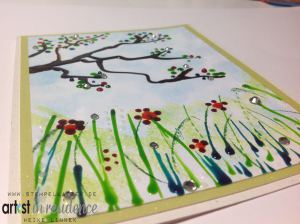 9. Adhere the layers.
10. Embellish with rhinestones.