Today I want to share my "flower recipes" I made while I was experimenting with Amplify! Each flower recipe card shows the individual steps to create that particular flower and a finished example. By using different colors of the Amplify! you will be able to create a garden full of flowers. Most are self explanatory and easy to follow.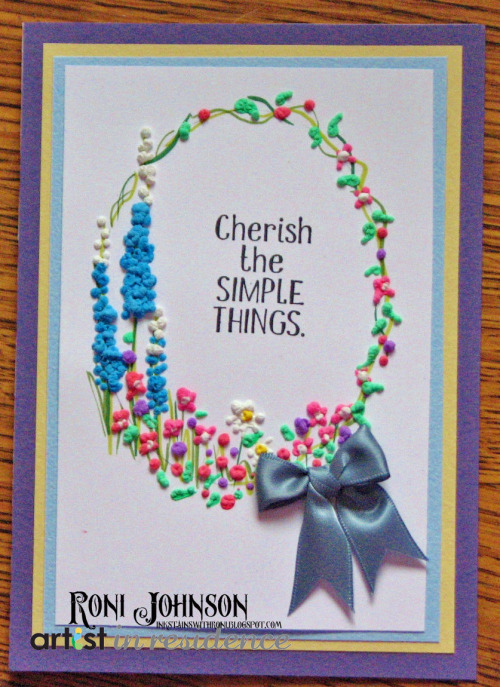 Here are the simple, quick visual tutorials to create your own basic flower shapes using Amplify!
Draw an "X" with main flower color; add a dot of color to the center; draw a simple bracket to create a leaf. Heat to puff.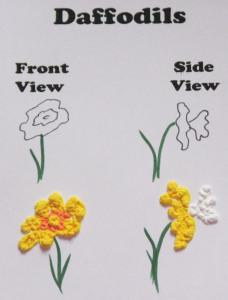 Draw stem and leaves using Memento Dual Tip Marker (Ivy Cottage); add a dot of Electric Yellow above the stem; surround the dot with second color (Electric Orange); add a wiggly line of Electric Yellow Amplify around both. Heat to puff.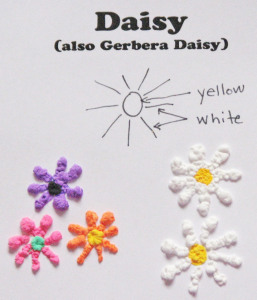 This is a fun flower shape that can be turned into any number of flowers by using a variety of colors for the petals and center disk such as Gerbera Daisies; Gaillardia's (Blanket Flowers); Cosmos; Cone Flowers; etc.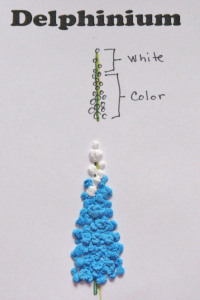 Draw a center stem to determine placement of the florets.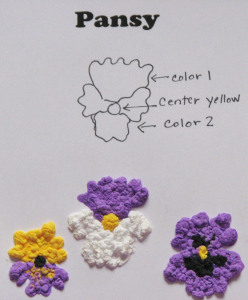 Experiment with different color combinations for the various sections of the flower to achieve an array of designs.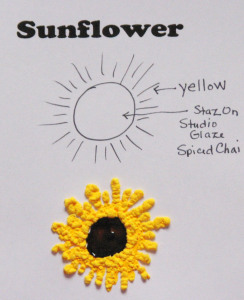 Draw a circle to use as a guide to draw the flower petals. Heat to puff. Fill the center hole with Spiced Chai or Ganache StazOn Studio Glaze and let dry naturally.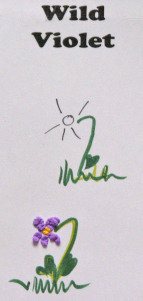 Draw the stem and leaves using Memento Dual Tip Markers (Ivy Cottage, Bamboo Leaves); apply a dot of color to the tip of the stem; add five petals in desired color.
Use the flower recipes to create the card above.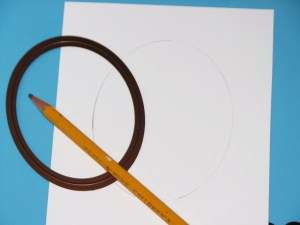 1. Cut a cardstock panel 4.25 x 6".
2. Draw an oval in the center of the panel with pencil.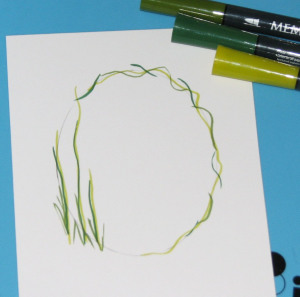 3. Add stems and vines in and around the oval using Memento Dual Tip Markers (Bamboo Leaves; Pear Tart; Ivy Cottage).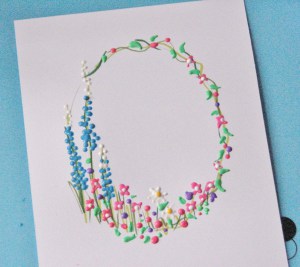 4. Use the flower recipe cards as guides to add flowers to the oval using the Radiant Neon Amplify! medium; heat to puff.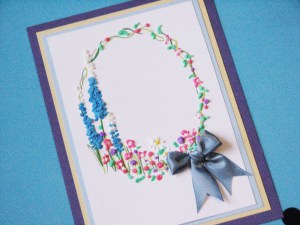 5. Mount the floral card panel on blue and yellow mats; affix to purple card base. Add ribbon.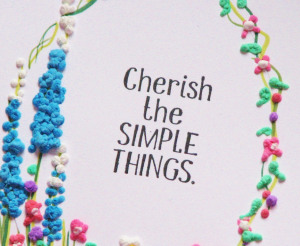 6. Stamp the sentiment in the center of the oval using Tuxedo Black Memento Ink.