Upcycled Journal
Transform an old book into this stunning journal.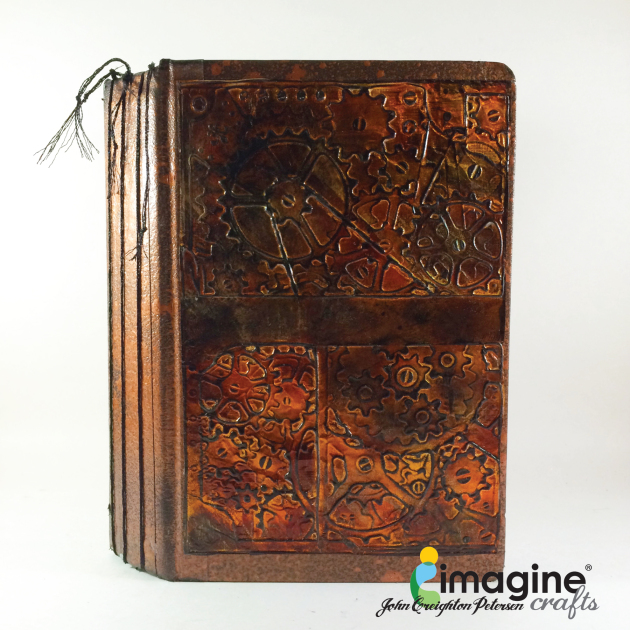 Cut the book block out from the inside of the book, being careful not to damage the spine or cover of the book.
Reinforce the spine of the book with bookbinding tape.
Emboss 2 pieces of heavy weight aluminum foil with the Gears 3D embossing folder. NOTE: Be sure to use heavy weight aluminum foil, regular weight will tear when embossed.
Use an InkBlusher to color both pieces of aluminum foil completely with StazOn Orange Zest; allow to dry completely or use a heat tool with light heat. With a different InkBlusher, apply a thin even coat of GlazOn across the entire surface and allow to dry (do NOT heat set GlazOn).
Repeat application of StazOn with GlazOn in the following order, using each color as a highlight to the design: St. Valentine, Spiced Chai, Ganache, Metallic Gold, Metallic Copper, Jet Black.
With a Jumbo Dauber, apply Brilliance Starlite Black along the edges and spine of the cover (left side in image); allow to dry.
Highlight with Brilliance Graphite Black with a Jumbo Dauber and let dry.
Spray colored areas with irRESISTible Copper and allow to dry completely.
Adhere the completed gear sheets to front (right in image) of the book cover.
Cut decorative paper to size for inner liner of the journal and adhere into place.
Tie 3 lengths of embroidery thread around the spine of the book./score pages to size. Divide into three signatures of equal pages.
Tuck first signature under the left thread and repeat for the remaining signatures.