Upcycled Cassette Tape Gift Card Holder
Transform an old cassette tape into a personalized (and stylish!) gift card holder.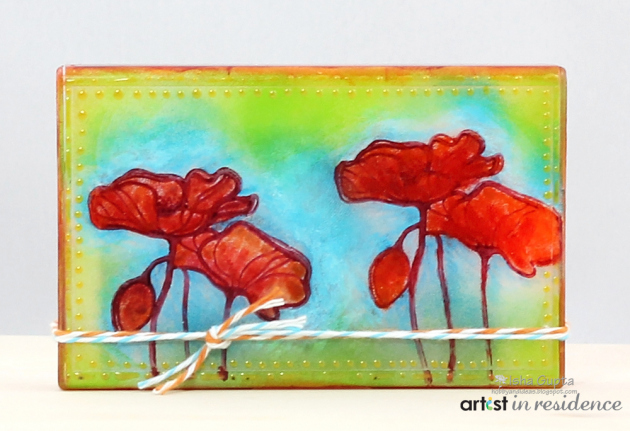 Wipe clean the cassette cover to remove any oils or residue.
Use an InkBlusher to apply StazOn Cotton White from the inker bottle over the entire cover; allow to dry completely.
Apply a thin coat of GlazOn to seal the Cotton White and to prevent other colors from blending together.
Stamp poppies onto the cover with StazOn Claret. Once dried, apply a coat of GlazOn.
Color in the poppies using Fantastix loaded with Orange Zest and St. Valentine. Dab the colors onto the cover rather than rubbing/brushing.
Follow with GlazOn applied over the petals.
Dab StazOn Blue Hawaii around the flowers. Add a touch of Cotton White to blend and soften the intensity of the blue color.
Add Cactus Green with an InkBlusher.
Edge the cover with a touch of Orange Zest and St. ValentineApply at least 2 coats of GlazOn to seal the StazOn inks and allow to dry completely.
Embellish the cover with a few lines and dots using irRESISTible Pico Embellisher Gold.