Do What Makes Your Heart Happy
Let your heart sing with this fun and bright layered card that will brighten anyone's day.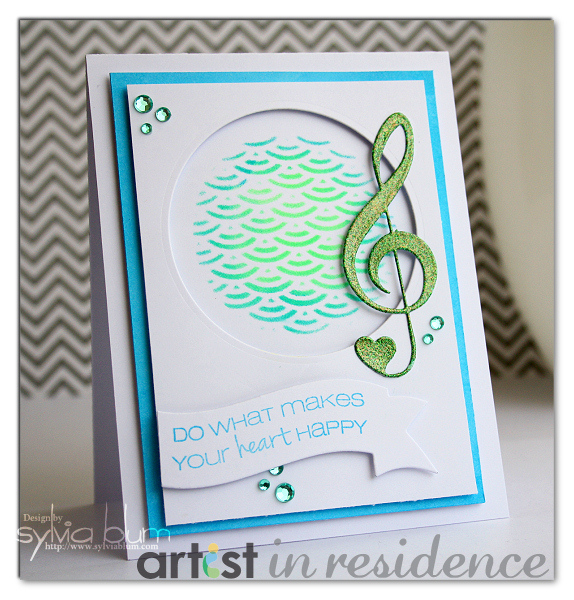 Create 4¼˝ x 5½˝ top folded card blank from white cardstock.
Cut a layering panel from white cardstock slightly smaller than card front.
Create mask from scrap piece of paper and a cut out circle using one of the smaller circle dies.
Affix mask to panel and the "Fan Pattern" stencil right on top of it, then use a Sponge Dauber to pick up Radiant Neon Electric Blue and Electric Green inks and sponge all over the masked stencil. Remove stencil and mask from panel.
Using an InkBlusher, pick up some Radiant Neon Electric Blue inks and color the edges of this panel. Tip: You can use strips of masking tape to avoid the center from getting colored (see picture above)
Cut panel from white cardstock slightly smaller than first panel. Cut out a circle slightly larger than the pattern circle on the other panel. Position die cut so that the smaller, stenciled circle from the underneath panel peeks through.
Die cut a banner from white cardstock and stamp sentiment onto it with Radiant Neon Electric Blue.
Mount everything onto card front using foam pads.
Die cut treble clef from cardstock and completely cover it with Versamark ink.
Sprinkle on Verdigris embossing powder.
Heat it with a heating tool until the embossing powder is completely melted.
Adhere treble clef to card front.
Embellish card with rhinestones.