Clematis Gift Box
Take gift packaging to a new level with a decorated gift box with a die cut and colored paper Clematis on top.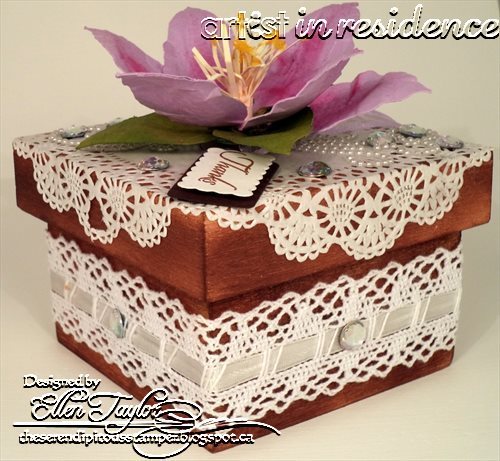 Using an InkBlusher, ink unfinished wooden box base and lid with Stazon Spiced Chai. For more even inking, ink in the direction of the wood grain.

Die cut Clematis and shape it using Susan's Garden Tool Kit.

Ink the petals with Memento Rose Bud and the leaves with Memento Bamboo Leaves.

Dip the flower centers in Yellow Pollen, assemble the flower and set aside.

Using an InkBlusher, apply a thin coat of Creative Medium to the back of a paper doily and adhere to the lid of the box.

Adhere 2 ZVA Creations Pearl Flourishes on the doily.

Die cut a sentiment tag in white and a base tag in brown using the Mini Rectangles die.

Stamp sentiment with Stazon Spiced Chai and adhere it to the base tag with pop dots.

Adhere the Clematis to the center of the doily.

Attach the tag with ribbon around the base of the flower and add some pretty gem stones.