This project was inspired by some gorgeous wire, metal, and glass lanterns we spotted in a shop last year. They were not for sale (more's the pity), but that never stops a crafter—at least not for long! With some paper maché houses and the help of shimmery Delicata inks, these holiday houses have a perfect patina of aged metal.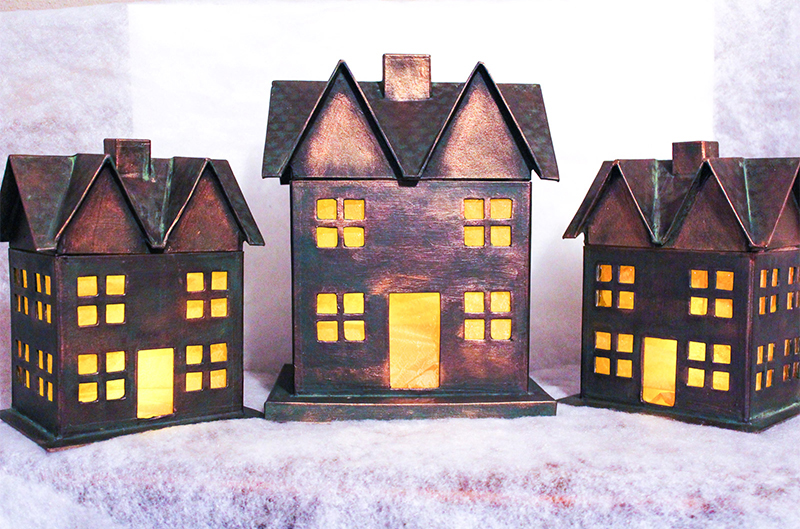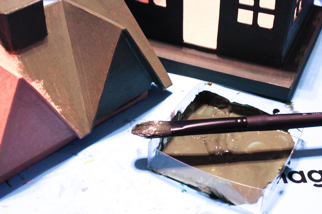 Step 1
Start by painting a base layer of a dark olive green acrylic paint onto the paper maché house. My green in a blend of 2 greens and a brown, which comes in handy when adding detail and aging as the colors used alone will more naturally blend together than if you tried to layer 3 disparate colors.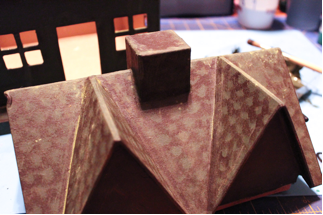 Step 2
Add details (shingle pattern shown above) and shading with the brown paint and then add a verdigris look by thinning the lighter green paint with water and dripping it along edges. Wipe away the excess aging to leave behind a realistic ghost of age and decay.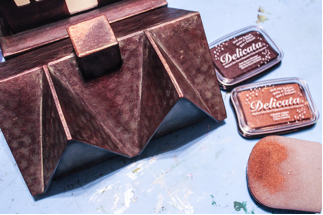 Step 3
Make it metallic by applying Delicata inks in dark brown shimmer and celestial copper with a Smudgee. Buff the dark brown shimmer over the entire surface but concentrate the celestial copper on edges and areas where the metal would be a bit protected (under the eaves, for example).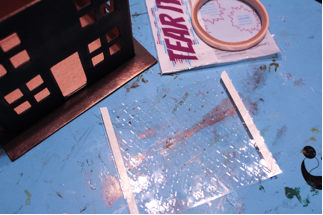 Step 4
Emboss clear acetate sheets with a geometric pattern and cut to fit the inside of the houses. This will give the appearance, from certain angles, of leaded glass. Attach the acetate with generous strips of Tear It! Tape.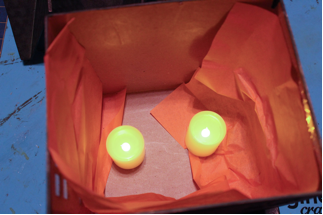 Step 5
Place a piece of yellow, orange, or white tissue paper inside the house, big enough to go behind the doors and windows, and insert one or two (depending on the size of the house) battery-operated votive candles.