Despite winter's chill, there are two things warming my heart these days: Christmas fun and the upcoming SciFi goodness of both Star Wars and Star Trek. Since I have quite a few fellow geeks on my Christmas list, I thought--why not combine the two? After all, what's colder than space? This card is also perfect for any long-distance holiday greeting, space-fan or not.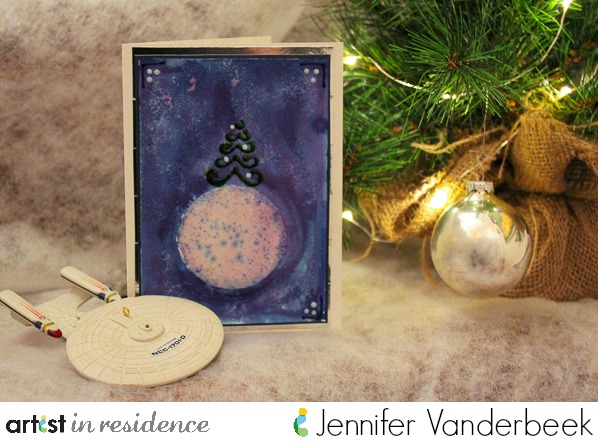 Directions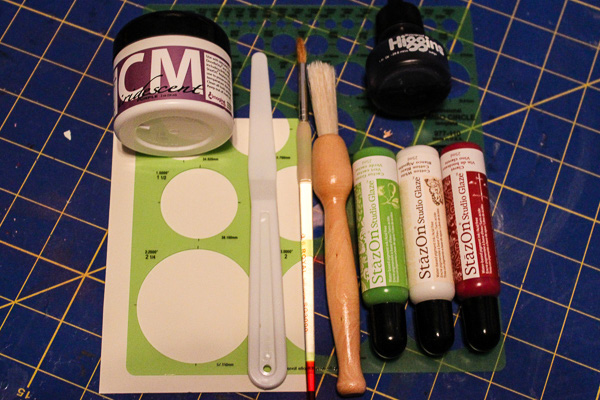 Step 1.
Gather your supplies and trim your watercolor paper to 4" x 5 ¾" (to fit on an A-6 card)

Step 2.
Select the size circle you want and position it on your watercolor paper, masking off the nearby bits with sticky notes as needed, and spread an even layer of the Purple Iridescent Creative Medium through the stencil. This is our "moon."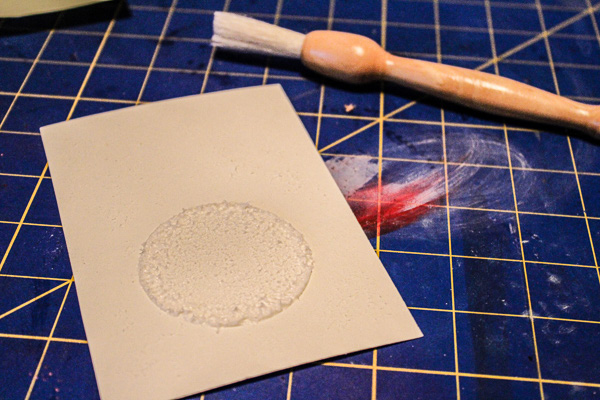 Step 3.
Rough up the surface of the moon with your stipple brush, including the edges, redistributing the lifted Purple Iridescent Creative Medium to the rest of the watercolor paper at random. Allow to dry completely.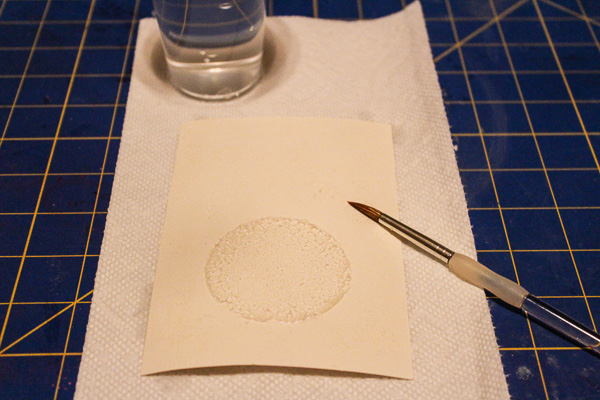 Step 4.
Brush the surface of the watercolor paper with water and your round brush. It doesn't need to be soaking wet, just evenly coated.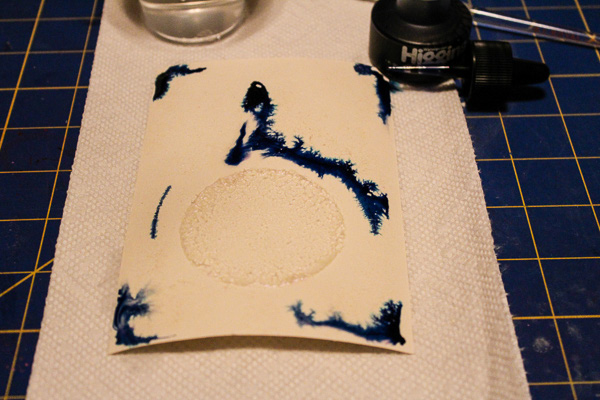 Step 5.
Using the dropper from the ink bottle, squeeze some ink onto the watercolor paper paying special attention to the corners and the area around the circle of Purple Iridescent Creative Medium.
Step 6.
Spread the ink around with your paintbrush, adding more ink and water until you get a good mix of light and dark spots. Wherever you drop ink directly will be darker than areas where the ink is brushed on, so use that to your advantage. And don't forget to brush a bit of ink across the moon.
Step 7.
Blot excess ink off the moon's surface. Some ink will collect in the spots you lifted away, adding depth and shadow to the moon's surface. You can also blot the rest of the card, helping to bring out the scattered Purple Iridescent Creative Medium "stars" in our sky. Let this all dry completely.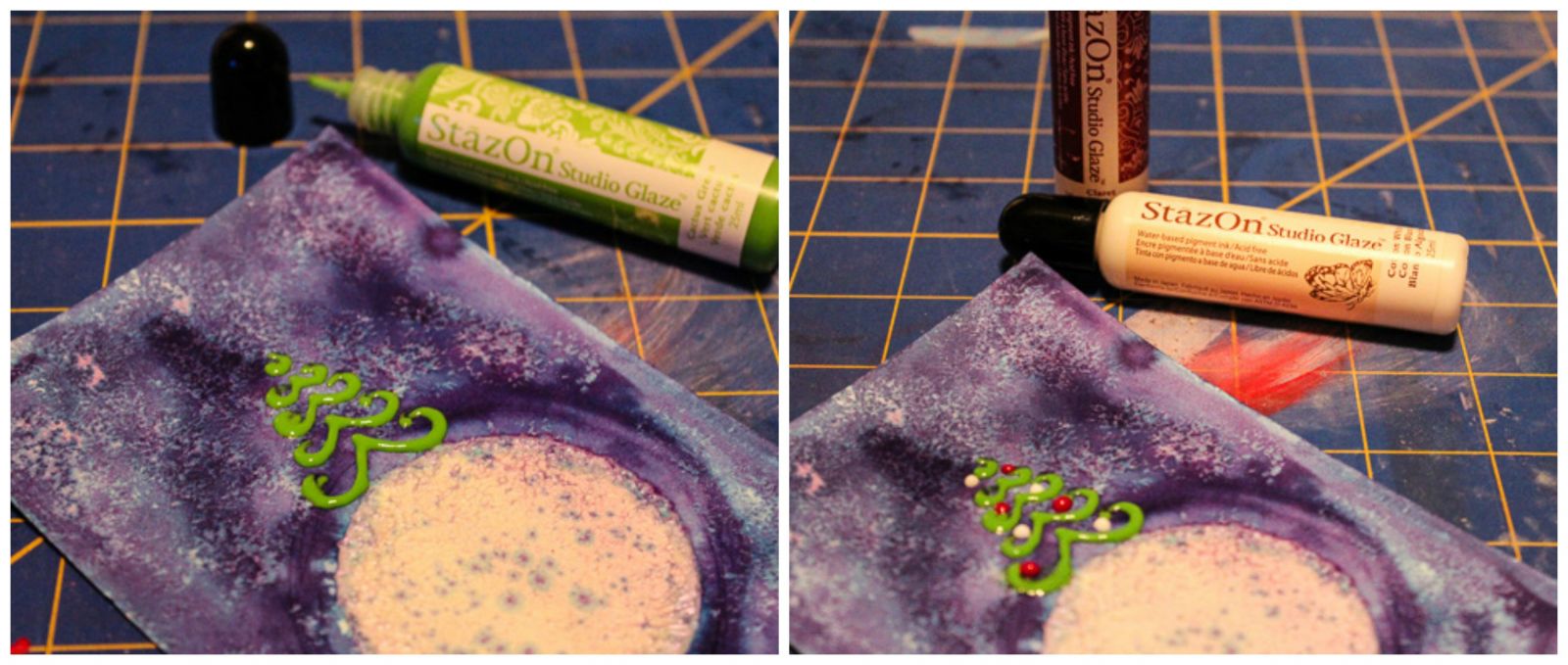 Step 8.
Draw a tree design above the moon with StazOn Studio Glaze in Cactus Green, then add ornaments with StazOn Studio Glaze in Cotton White and Claret. They go on very bright but will deepen in color as they dry. I also added more Cotton White and some Blue Hawaii in the corners.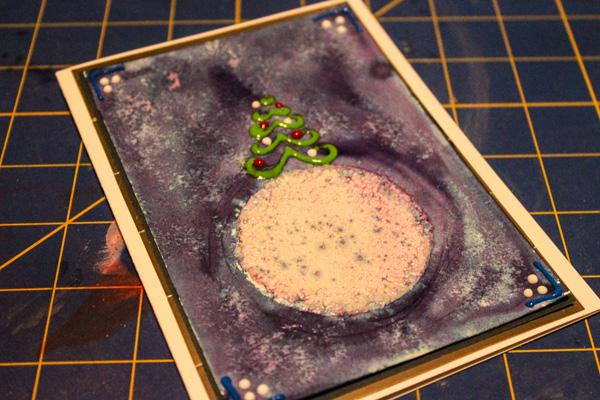 Step 9.
Mat the watercolor paper onto navy cardstock and then onto silver mirrored cardstock, then mount it to a white A-6 card. Add your greeting inside and you're done!