The image on my card is one of a lady who should be in the no judgement zone since she has her own style and is proud of it! May we all promote peace, love and understanding every day so we can have these beneficial feelings at least in our small part of the world.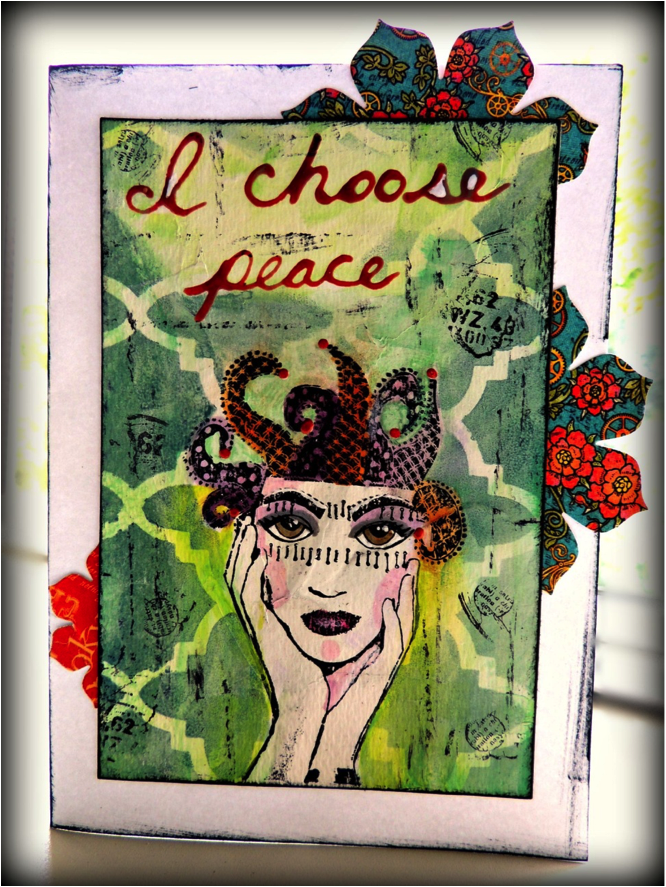 Directions:
Step 1: Cut a piece of water color paper to measure 6" by 4", apply a thin layer of gesso and allow to dry. Stamp image, color in image with Memento Markers. Freehand write chosen phrase with an irRESISTible Pico Embellisher, this was done in the Copper color. Allow to dry completely.
Step 2: Using green and blue acrylic paint and an InkBlusher, paint around the image and blend. Allow to dry.
Step 3: Lay a stencil over the top of the card panel. Mix on the craft mat the same acrylic paints in green and blue with a small amount of black paint, apply through the stencil with a sponge in chosen spots.
Step 4: Randomly stamp with StazOn Jet Black ink all over the panel. Apply additional irRESISTible Pico Embellisher on hat making small dots.
Step 5: Attach some G-45 flowers behind the panel. Ink the edges of the panel and the A7 size card with the white card with Jet Black ink. Glue the panel to the card.