I like the colors of Spring! The Brilliance Pearlescent inks are just perfect for the subtle shine and lightness for this time of the year!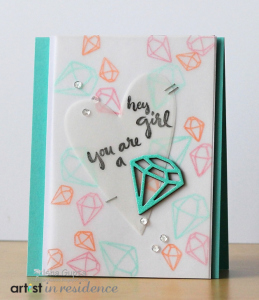 Directions:
1. Cut/score card base to a finished size of 4¼˝ x 5½˝ from white cardstock.
2. Cut a piece of vellum measuring 3.5 inch by 5.5 inch. Stamp the images in a random pattern.
3. Die cut a heart shape. Stamp sentiment.
4. Adhere the heart onto the stamped vellum panel using staple.
5. Die cut the Diamond shape using teal cardstock, spray Shimmer spritz Frost and then cut 3 more diamonds using black cardstock. Using a little glue, stack them together.
6. Cut a piece of white cardstock measuring 3.75 inch by 5.5 inch. Apply shimmer spritz to the edges using a brush. Adhere the Vellum layer onto it.
7. Add this mat layer to the cardbase using 3 D foam. Affix some sequins to finish.