A few days after we were asked to do an upcycling project I got hold of an old and ugly plastic picture frame. There were two choices: chuck it away or pimp it up. Of course I did the last one, and now it is the perfect frame to present a photo showing my beloved Dad in the 1960s. This technique using Creative Medium and Embossing Powder is very easy to do and gives a true metallic retro effect.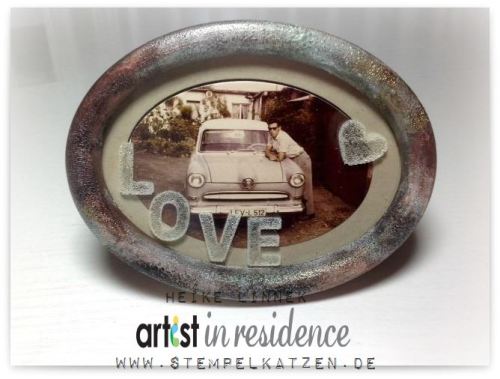 Directions: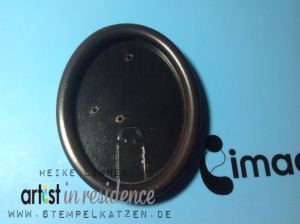 1. Clean the surface and disassemble the frame.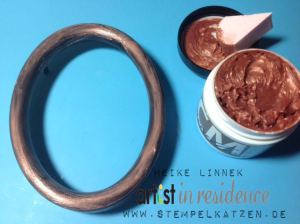 2. Cover the surface with Creative Medium Metallic Copper using Ink Blushers.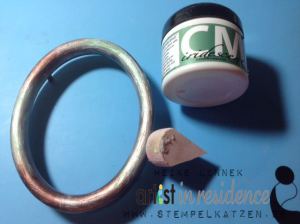 3. Apply Creative Medium Iridescent Chartreuse onto some areas. Don't let it dry.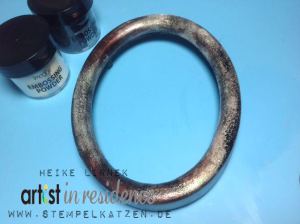 4. Add some Clear and a little bit of Black Embossing Powder. Gently heat set it with a heat tool.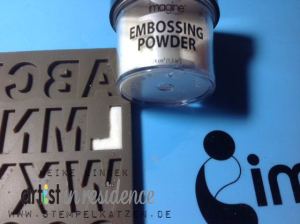 5. Choose a heat-proof molding form and fill it carefully with Clear Embossing Powder.
6. Melt the embossing powder in the oven or use a similar process. If using the over (or toaster oven), choose broil setting if possible and start with a lower temperature. It's important not to go away from the oven, always have an eye on what happens inside! If the Powder gets clear, it's time to take it out. Let everything completely cool down before releasing the characters.

7. Rebuild the picture frame and adhere the lettering or embellishment.