"April Showers" in the Southern Hemisphere are slightly different than those in the Northern hemisphere - we are heading from summer to Autumn/Fall and April Showers are more than welcome but bring with them a reminder that we are heading to cooler tempertures and...rain! This is my inspiration for this card.
Directions: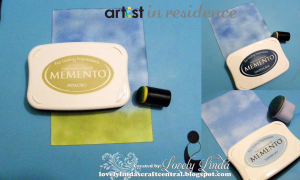 1. Cut white cardstock to 4"x6".
2. Sponge the top three quarters of the cardstock using Memento Ink in Summer Sky with a Jumbo Dauber.
3. Randomly sponge over the Summer Sky using Memento Nautical Blue ink with a Sponge Dauber.
4. Sponge the lower quarter using Memento Pistachio ink and a Sponge Dauber.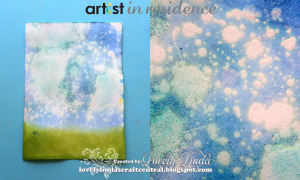 5. Lightly spritz the sponged cardstock using liquid bleach.
6. Daub using paper towel to remove excess.
7. Allow to dry.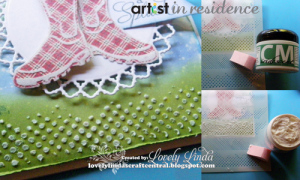 8. Cut/emboss one Diamondessence Nestabilities using white cardstock.
9. Cut/emboss one set of Wellies using patterned paper.
10. Adhere one Wellie using double sided tape.
11. Adhere second Wellie using CRafty Foam Tape as shown in the photo.
12. Attach the Diamondessence Die Cut onto the sponged cardstock using Crafty Foam Tape.
13. Using an InkBlusher apply Creative Medium to the stencil.
14. Remove stencil and allow to dry.
15. Add baby bling randomly to the 'sky' to give impression of 'April Showers'.
16. Adhere to the card base using Crafty Foam Tape.