I love dandelion's and cant wait for them all to start springing up so I can pick them and make a wish! When I saw the fabulous Clearly Besotted stamp set Dandelion Dreams a plan quickly formed. Traditionally it should be white but hey, artistic license and my favourite Memento Luxe pad Rose Bud was calling my name.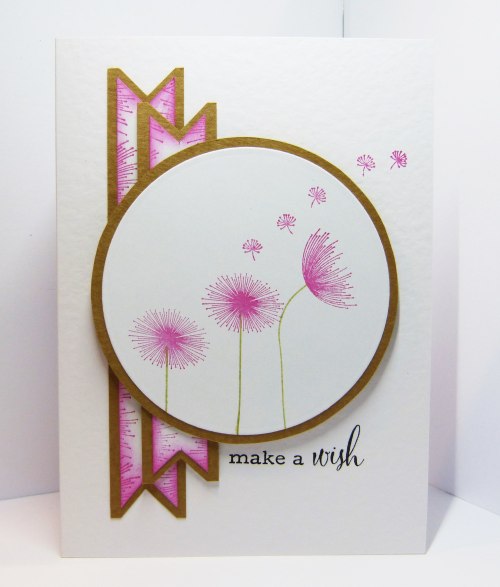 1. Cut the following pieces of cardstock for creating this card:
from kraft cardstock: 1˝x 5˝ and the other piece to 1 x 6˝
from white cardstock: ¾˝x 5¾˝and ¾˝x 4¾˝, then create dove tail cuts at the ends of the strips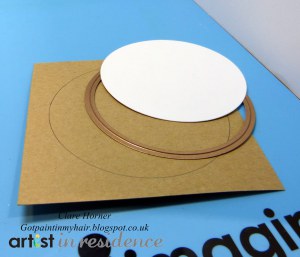 2. Cut the largest circle die in from white cardstock, then draw around the outside of the largest circle onto a piece of kraft cardstock and hand a circle – this creates the frame that is slightly larger than the die cut white circle.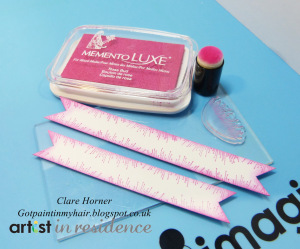 3. Edge the white dove tail strips with Memento Luxe Rose Bud using a Sponge Dauber.
4. Stamp the top edge of one of the dandelions around the edge of the white card strips with Rose Bud.
5. Glue the white strips to the kraft strips, then cut dove tail ends into the kraft pieces.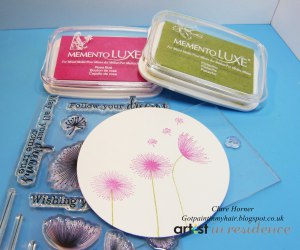 6. Stamp the white circle with three stems in Memento Luxe Pistachio.
7. Stamp the matching dandelion heads in Memento Luxe Rose Bud.
8. Glue the white circle to the kraft circle.
9. Referring to the finished sample image above, first adhere the longest strip onto the card base followed with the shorter strip slightly overlapping the longer piece.
10. Mount the circle piece with dimensional tape.
11. Stamp two extra dandelion fluff's directly onto the card base with Memento Luxe Rose Bud
12. Stamp sentiment in Versafine Black directly onto the card base.