When creating cards that I'm sending to friends, I tend to create with the recipient in mind. Since this card was being sent to one of my fun and crazy artists friends, I decided to create something a little more on the edgier sides of things because I knew that she would appreciate it.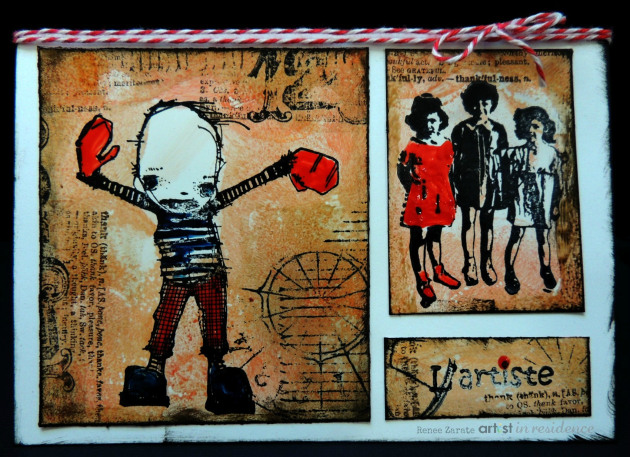 1. Stamp images onto white glossy card stock with StazOn Jet Black and allow to dry completely (or use a heat tool to speed the process).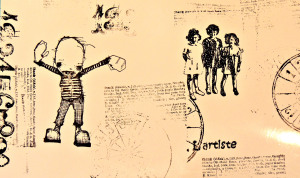 2. Apply StazOn Studio Glaze to Craft Mat and thin with a little rubbing alcohol on an InkBlusher to create more flow. For this design, I used StazOn Studio Glaze in Orange Zest, St. Valentine, Spiced Chai, Midnight Blue and Metallic Silver while working from lighter to darker with the colors.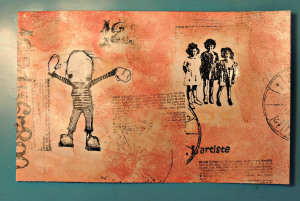 3. Sponge the StazOn Studio Glaze onto the glossy paper, avoiding the faces in the stamps. If some of the Studio Glaze is applied to unintended areas simply remove quickly with some rubbing alcohol and a paper towel. Continue turning the sponge and layering colors of Studio Glaze until satisfied with the result.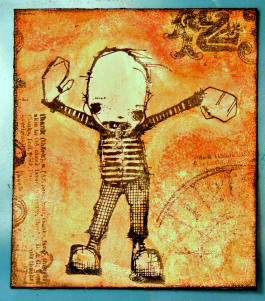 4. Using a paper cutting tool, cut the paper into three sections.
5. Ink the edges of each cut out section with StazOn Ganache ink.
6. For more intense colors in areas where you would like to highlight or add emphasis, apply Studio Glaze directly from the bottle to color clothing, etc, since the colors will appear deeper.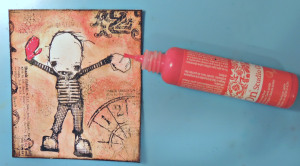 Adhere the panels to a blank white card. Wrap Baker's Twine around the top of the card and tie a bow.