Coloring with Encore Inks
Build layers of beautiful colors with Encore Ultimate Metallic Inks.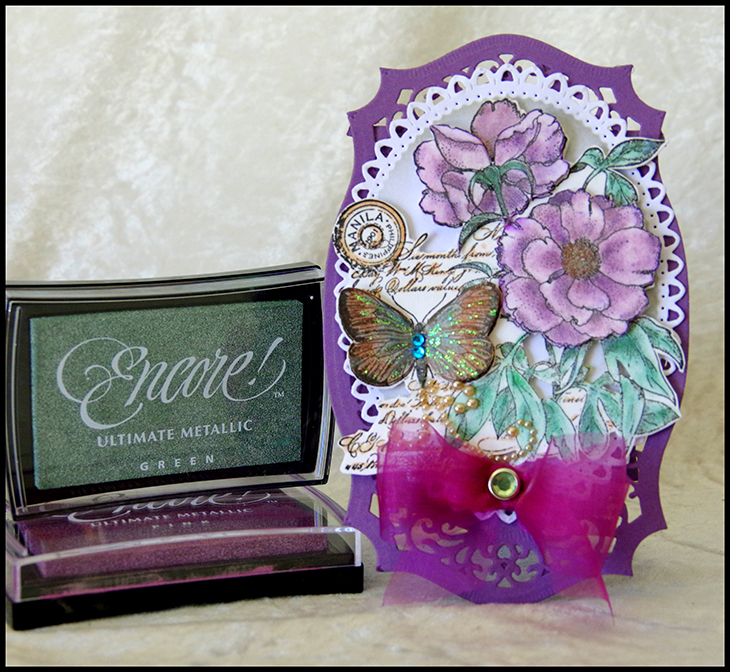 Stamp two copies of the image onto white cardstock using VersaFine Onyx Black ink.
Apply the first layer of color to the flowers on both images with Encore Pink using a Fantastix.
Add more layers of Encore Pink until the depth and shading desired is reached. NOTE: More detail is advised on the top layer, to make the flowers 'pop'.
Color the leaves using Encore Green on the first image.
Apply extra layers and shading with Encore Greento build depth in the leaves.
Fussy cut the flowers from the second image.
Layer the hand cut flowers onto the bottom layer with dimensional adhesive.
Color the butterfly on both layers using Encore Blue and Copper.
Fussy cut one of the butterflies and layer onto the bottom layer using liquid glue.
Cut around the layered image.
Cut/emboss one Grand Decorative Labels One Die #1 from with cardstock.
Use the die as a stencil and sponge with Encore Champagne using a Sponge Dauber before removing the die cut piece from the die.
Cut one Adorning Labels Twenty-Five and one labels Twenty-Five Die in purple cardstock.
Score the plain Label Twenty-Five ½˝ from the top and fold forward at the scored line.
Adhere to the Adorning Labels Twenty-Five using double sided tape, lining up the filigree pattern along the edges.
Center the Decorative Labels One to the front of the card base and adhere with dimensional tape.
Attach the image using dimensional adhesive.
Add liquid glitter sparingly to the wings of the butterfly.
Attach a double bow using sheer ribbon and a decorative brAdhere bling to the butterfly and from the bow as shown in the main photo.