Ink and Faux Lace
Capture the timeless elegance of lace accents with this garden themed card.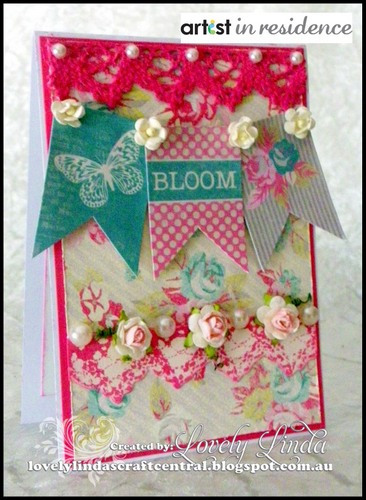 Adhere cotton lace to the brayer using (temporary) double sided tape.
Make sure the joined lace is flat.
Ink the brayer using RoseBud ink until the lace is completely covered.
Repeat the process and fill card, inking between each row.
Hand cut one row of inked card lace.
Ink around the edges using RoseBud and a Sponge Dauber.
Adhere Authentique Paper (3½˝x 5½˝) to dark pink card stock (3¾˝ x 5¾˝).
Adhere layered printed papers to white cardstock cut to 4˝ x 6˝.
Adhere 'faux lace' to the lower portion of the layered paper.
Adhere paper roses and pearls as shown in the photo above, using liquid glue.
Once inked lace has dried, apply to top of patterned paper with adhesive of choice.
Affix pearls along top edge of lace.
Add flag banners as shown using dimensional tape.
Adhere flowers onto each join of the banner using liquid glue.