Some Bunny Loves You
This delightful Easter greetings card features shimmer highlights with the Pico Embellisher.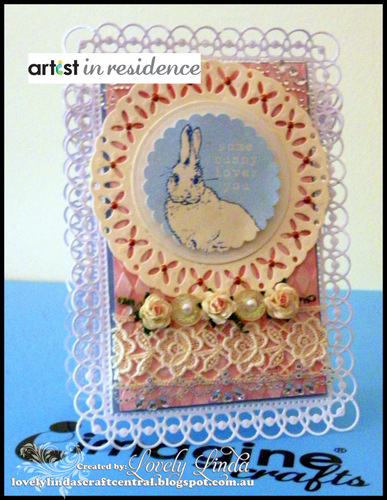 Cut Authentique Precious Collection to 3¾˝ x 5½˝.

Emboss patterned paper using Harlequin M-Bossabilities folder.

Using the Sponge Dauber apply VersaMagic Cloud white onto the embossed pattern.

Cut two (2) pieces from the Nestabilities 5x7 Detailed Scallops from white cardstock.

Score the top of one card ½˝ from the top and fold forward.

Apply double sided tape to the folded area.

Attach the second die cut white 5x7 Detailed Scallops to the folded one to form card base.

Adhere embossed card to blue cardstock that is cut slightly larger with foam squares.

Cut/emboss one (1) Delightful Circles Decorative Elements in cream cardstock.

With the Pico Embellisher in Lady Bug, create small dimensional dots to resemble pearls; set aside to dry.

Die cut the "Some Bunny Loves You" image from the Promise collection with the Scallops die set.

Adhere to the middle of the Delightful Circles die cut with foam squares, then attach both to the top portion of the card.

Adhere want2Scrap bling to the top corners of the card.

Adhere vintage lace approximately ¼˝ from the bottom of the layered die cut pieces.

Attach Want2Scrap Border Bling under the vintage lace.

Apply Pico Embellisher Shimmer to the paper roses and let dry.

Adhere paper roses under the Delightful Circles, alternating with buttons.