My summer wardrobe is full of boring plain shirts, how about yours? This year I was so happy to receive some of the gorgeous Memento Luxe inks and have quite literally gone to town jazzing up my clothes with my favorite images. Check it out!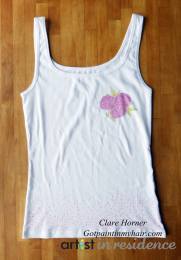 Directions
Step 1: Place a sheet of scrap paper inside your shirt.
Step 2: On the back of your vest stamp the falling snow stamp with Memento Luxe Rose Bud above the hem line, thickest part of the pattern closet to the bottom. Repeat all around. one side.
Step 3: Dry the ink carefully with a heat tool, making sure you do not burn your fabric, then repeat on the other front side.
Step 4: Put your shirt on and decide where you want your flowers to be placed.
Step 5: Taking the largest flower base from the sketched blooms set stamp once where you want your image to be.
Step 6: Taking the corresponding detail stamp, stamp over the top with Sweet Plum.
Step 7: Stamp the detail flower three times onto masking paper, cut out with a border. Mask off your first flower and repeat step 6. Mask off the second flower and repeat step 6.
Step 8: Using pear tart stamp the largest leaf base stamp in Pear Tart.
Step 9: Using pistachio stamp the leaf detail stamp over the top.
Step 10: Carefully remove your masks. Dry off the ink with a heat tool and iron on the reverse with a clothes iron to heat set all inked areas. Wear and Enjoy!