As soon as I heard the theme for this project was gift card holders, I immediately thought of a pocket card. Of course with my own little twist. It is the perfect way to be a little bit 'sneaky' with an unexpected gift...as you will see from my tutorial. Enjoy!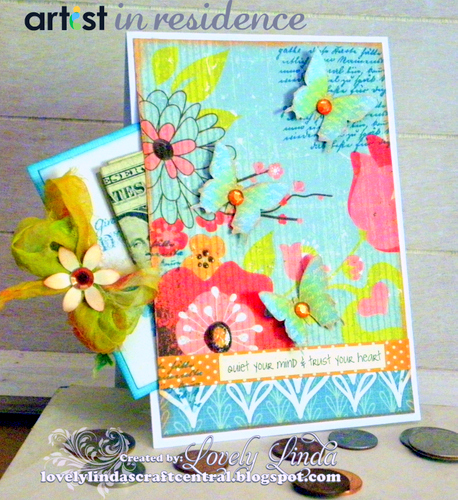 Directions
1. Cut patterned paper to 3 3/4" x 5 3/4"
2. Sponge around the edges using Electric Orange and a sponge dauber
3. Using Teal Blue Ink, stamp the script image into the top right corner
4. Stamp four (4) butterflies using Teal Blue - put one aside
5. Hand cut/fussy cut the remaining three (3) butterflies
6. Sponge the edges of the butterflies using Electric orange with a spounge dauber. You will also want to sponge the center of the butterflies using Electric Yellow
7. Adhere butterflies to patterned paper as shown in the photo
9. Trim around the remaining butterfly to form a rectangle, " x "
10. Layer onto slightly larger blue cardstock using double sided tape and punch a notch into the right side of the card
11. Thread ribbon through the notch and tie a double bow, adding liquid glue under the bow to secure it
12. Adhere a small flower to the center of the bow and add brown bling to the center of the flowers and the butterflies - put the tag aside once you are done
13. Attach strong tape to the edges of the card - leaving 4" without tape to form the pocket
14. Adhere to the white card base
Once you have adhered everything together, slide the tag into the pocket and tuck the money or gift card in with the tag!