Mother's Day is one day of the year that is common to us all, we all have or have had a Mother, what better way to say 'I love you' than with flowers! The beautiful flowers featured on this card will not wilt or fade.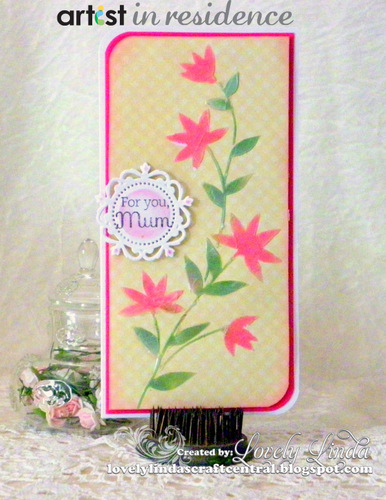 Directions:
1. Place Stencil onto patterned paper and secure using masking tape
2. Sponge Flowers using Rose Bud Ink and a Sponge Dauber
3. Use Palette Knife to apply Creative Medium Iridescent - Pink over flowers, Green over stems and leave
4. Carefully remove stencil and allow to dry
5. Cut patterned paper to 6 1/2 " x 3 1/4 " - Be sure to use on a Corner Rounder on opposite corners (two only)
6. Cut black card to 6 3/4 " x 3 1/2 " to form card base, also use on a Corner Rounder on the same opposite corners as patterned paper.
7. Cut pink card slightly smaller than the card base and again, use a corner rounder on teh same opposite corners as the patterned paper and card base.
You'll want to attach all the layers of paper with your double sided tape. 1
8. Cut one (1) Royal Circle using white cardstock
9. Using the Die as a Stencil and sponge the inside of the Die using Rose Bud and a Sponge Dauber.
10. Remove the Die and apply your sentiment. Once done with this step you will want to adhere your card using craft foam tape.