irRESISTible Always and Forever Valentine's Day Card
Use irRESISTible Texture Spray as a resist with Memento Luxe for a vibrant card.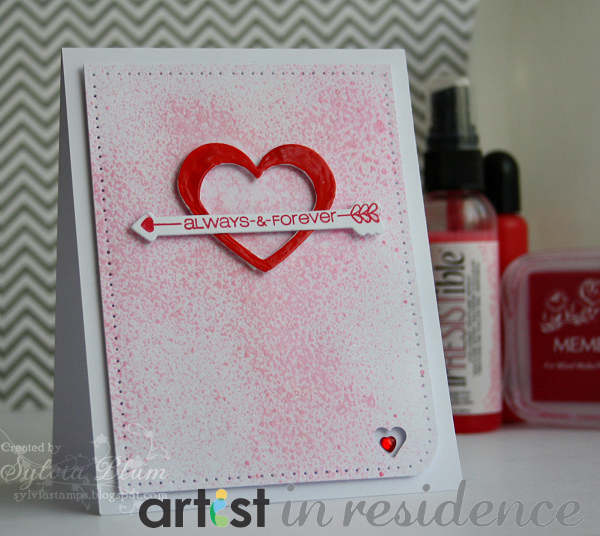 Create square card from 8 ½" x 4 ¼" white cardstock and round lower corners.

Die cut heart shape from 3" x 3" piece of white cardstock and spray with irRESISTables in Teal Zeal from approx. 3-4" distance. Let dry completely.

Pick up some Memento Luxe in Lilac Posies ink with an Ink Blusher and wipe over the heart. The IrRESISTible will act as a resist and only the remaining white spaces will be covered with the Lilac Posies ink.

Stamp sentiment in the center of the 2 ¾" x 2 ¾" piece of white cardstock with Memento in Teal Zeal.

Mat 2 ¾" x 2 ¾" white cardstock with 3" x 3" pink cardstock and mount to card base using dimensional foam tape.

Pour a small amount (2-3 droplets) of IrRESISTible Teal Zeal onto a Craft Mat and add some Ink Potion No. 9. Mix it with a paint brush and create a little puddle. Then take a paint brush and pick up a little bit of the diluted IrRESISTible Teal Zeal. Carefully tap on the brush to create a diagonal line of small color splashes from the upper left side to the lower right side. Allow splatters to dry completely. Splattering with a paintbrush instead of spraying gives larger dots of color. Tip: The more IP9 you add to the IrRESISTible, the smaller and finer the splashes will be; adding less water results in bolder splatters.

Mount heart die cut to card using dimensional foam tape and embellish with a small heart rhinestone.