All Purpose Ink Product Overview
All-Purpose Inks are washable, permanent and blendable craft inks, suitable for fabric, wood, leather, porcelain, bisque and other porous surfaces. Known by its many devotees simply as API, these inks have the extraordinary characteristic of maintaining the soft hand of fabric while adding beautiful colors to your project.
What are all All-Purpose Inks made of?
All-Purpose Inks are a concentrated pigment liquid ink that is water-based and permanent. A little goes a long way with this remarkable ink! All-Purpose Inks are available in 0.5 oz bottles, and of course they're archival and acid free.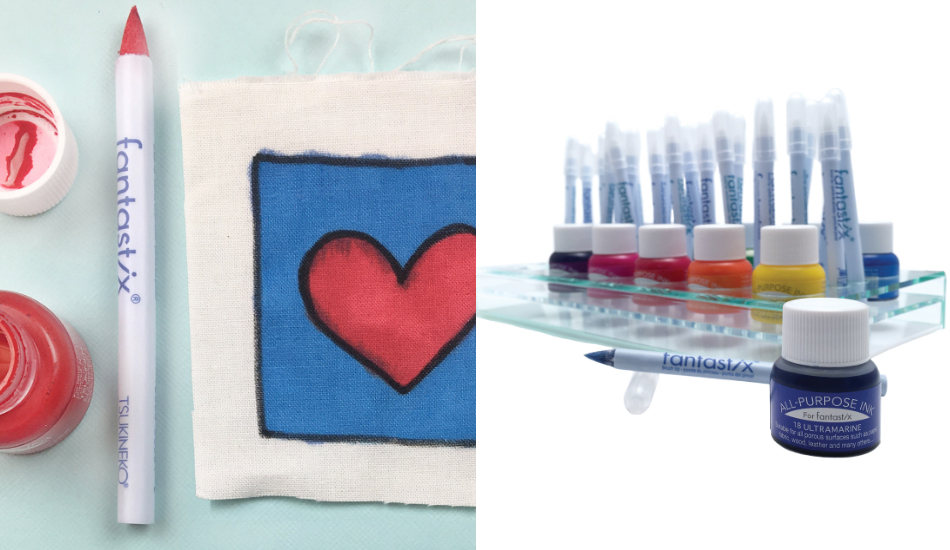 Ink on fabric
All-Purpose Inks are permanent on natural fabrics when heat set with an iron (at temperature appropriate for ironing that fabric). Mix colors to create your own unique hues. Use to color in and around embroidery, to fill in around outline fabric, for rubbings, stenciling, with stamps having outline images and for silk screening, and for dyeing fabric. Apply with a brush, Fantastix, Brushstix or an airbrush.
Basic Technique
1. Dip the tip of a Fantastix applicator into the ink bottle to allow the ink to wick up into the barrel of the Fantastix.
2. Apply color by lightly gliding the loaded Fantastix over project surface.
3. Heat set to make permanent.
Tips
All-Purpose Ink (API) can be diluted up to 25% with water for pastel or lighter color variations. For stronger dilution or to create API sprays, use API with Ink Potion No. 9 Blending Solution.
Mix API into aloe vera gel to thicken the ink for a more controlled application. The aloe vera will wash out of fabric completely.
Blend White API with darker colors to produce pastel colors.
Apply hand lotion prior to use to reduce staining of hands.
Launder fabric first if sizing is present.
Additional Applications
Faux appliqué: stitch around API-colored fabric and images
Use API with shaving cream for unique marbling effects
Paint or spray API onto wet fabric and then sprinkle with salts for a mottled look
Perfect for filling in embroidery and outlined fabric
API is great for rubbings, stenciling and silk screening
Quick Troubleshooting
To remove ink while still wet: API can generally be rinsed out while the ink is still wet
To remove ink while partially dry: Apply detergent before heat-setting the surrounding colors. Stain removal pens are also recommended (NOT bleach pens). Launder without fabric softener.



All-Puprose Inks conforms to ASTM D-4236.