Brilliance Ink to Make a Sparkly Winter Gift Tag
Add a special touch to your holiday gifts with a handmade gift tag.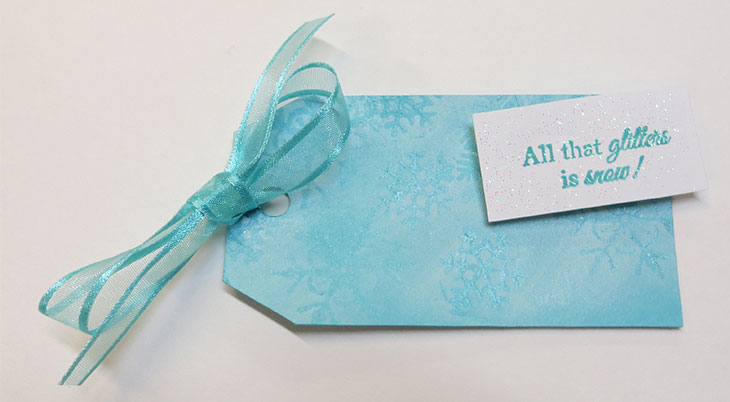 Cut the cardstock into a 3.5" x 1.75" tag shape. Punch a hole near the top.

Mount a snowflake stamp onto an acrylic block. Apply GooseBumps Texture Spray to the stamp using the dauber top, then stamp onto the tag. Repeat with the other snowflake stamps to cover the tag.

Using a Jumbo Dauber, cover the tag with Brilliance in Moonlight White.

Cut an 8" piece of ribbon. Thread the ribbon through the hole in the tag and tie into a bow.

Stamp "All that glitters is snow" onto white cardstock with Brilliance in Pearlescent Sky Blue. Cut the sentiment out. Let ink dry.

Using a Jumbo Dauber, apply glue from the Essential Glue Pad to cover the sentiment. Sprinkle with ultra-fine glitter. Cover with scrap paper then press the glitter into the cardstock. Let set for 15 minutes, then tap off any excess.

Apply sentiment to the tag with dimensional foam adhesive.