Goth Prom Queen Card
Make this card for the nonconformist in your life.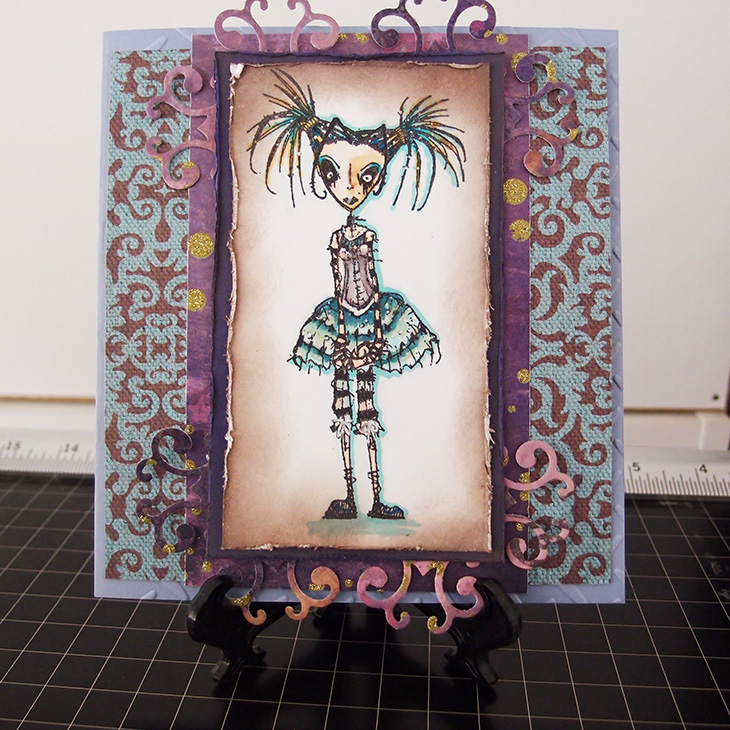 Stamp Prom Queen on white cardstock with Memento Tuxedo Black.

Skin colors: Use FS2 is used for base color, shade with FS3, deeper shades with FS6.

For skirt and hair colors, begin with BT1 - lightest blue. Add shade with BT2, BT4 and BT7. Color hair in same way. Also add eye shadow.

Bodice colors: BG4, BG2, and BG6. With GB8, add more shade here and there, especially on hair. Add more shade with BT9. Use EB2 on hair highlights.

With BT1, make shadow around the image.

White gel pen dots added as highlights.

Apply Brilliance Coffee Bean to a craft sheet or any non porous surface, then pick up ink with a Jumbo Daubers.

Apply ink around paper edge.

With paper distresser, fray the edges. Assemble cards.